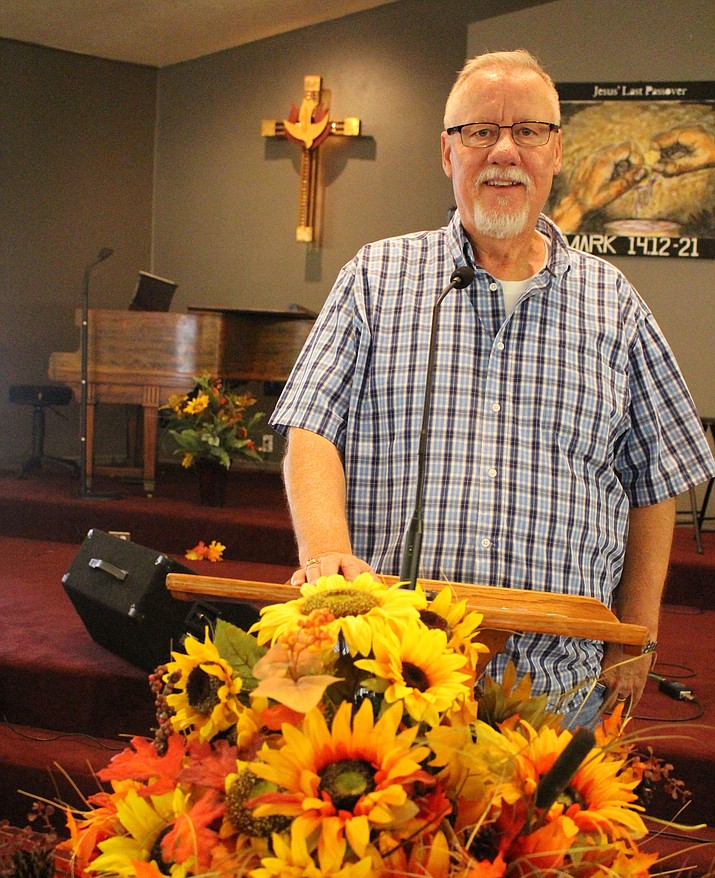 Photo by Hubble Ray Smith.
Originally Published: September 29, 2017 6 a.m.
KINGMAN – It's never a pleasant situation, but it's fairly easy to get a divorce in Arizona for "irreconcilable differences" without having to show cause in court, which has crumbled the foundation of marriage in millions of American families, said Peter Ernst, senior pastor of Family Bible Church.
To strengthen that foundation, the church is holding a "covenant marriage" service at 10 a.m. Sunday, with Ernst presiding over the 90-minute service.
About 12 couples from the church have committed to the covenant marriage, and anyone is welcome to step up on Sunday.
A covenant marriage makes divorce more difficult because the husband or wife has to show cause such as infidelity or domestic abuse and agree to mediation, Ernst said.
It's based on a covenant, or agreement, that in biblical times called for the sacrifice of an animal and people walking through its blood as a testament of covenant, the pastor explained.
"In every religion – Islam, Judaism, Christianity – it's all about the blood, not violence, but atonement," Ernst said.
Family Bible Church, 2040 Golden Gate Ave., changed its name from Manzanita Baptist a year ago because of three things that are under attack today: marriage and family, the Bible and the church.
"We're taking a stand for biblical marriage, not because we want to poke a finger in someone's eye or pass judgment on same-sex marriage or whatever," Ernst said, "but when we redefine marriage, there are consequences, and we're already reaping some of the consequences that we have sown."
Divorce is on the rise, even in the church, he noted, because people don't believe in authority and inherency of the scripture.
"We pick and choose what we believe in. It's a smorgasbord religion. There's no absolute in the world, and we're absolutely sure of that. But we do have people who want substance that doesn't shift with public opinion," Ernst said.
Married couples today have ignored the principal of the covenant, cutting their own agreements, he added. The idea for the covenant marriage service came from one of his sermons on the 10 commandments, and the different stances people take on adultery.
About 40 percent to 50 percent of married couples in the United States will file for divorce, according to the American Psychological Association. Divorce rate for subsequent marriages is even higher.
Terry Olson, office administrator at Family Bible Church, said couples can pay a filing fee with the county to have the covenant marriage added to their marriage license, but it's not necessary. Others may simply want to restate their vows and commit to a biblical marriage, she said.
"We're going to invite the church people to be our witness and hold us accountable," Olson said.