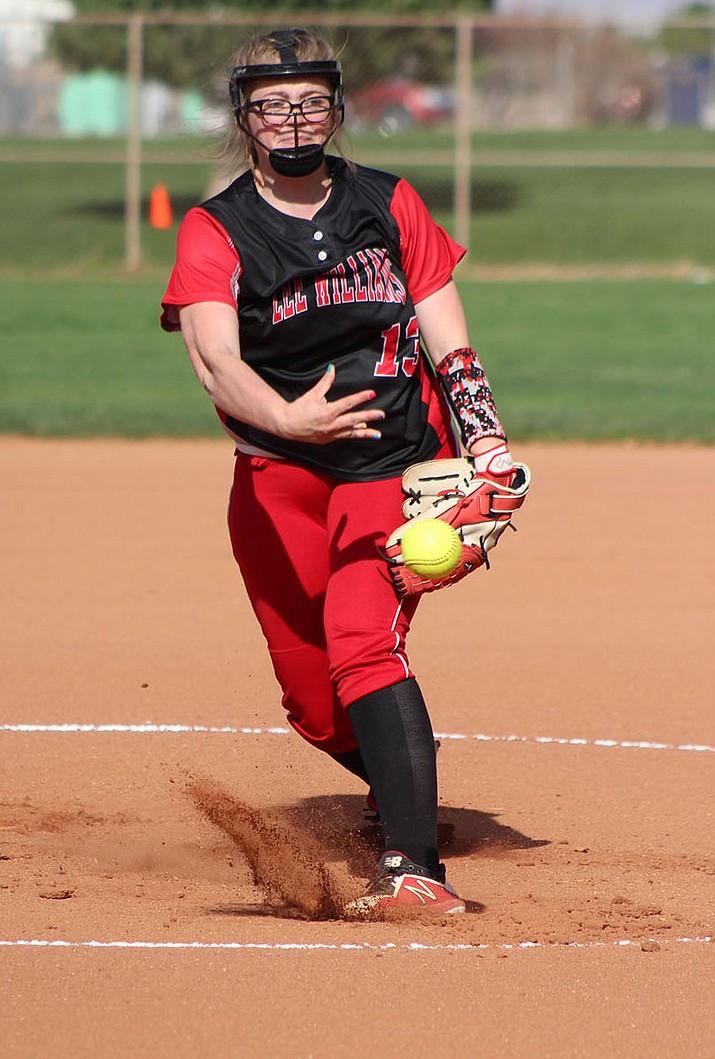 Photo by Beau Bearden.
Originally Published: April 4, 2018 6:19 a.m.
KINGMAN – It appeared the Lee Williams High School softball team was on the way to its first 4A Grand Canyon Region win Tuesday against Prescott.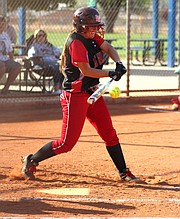 Unfortunately, the No. 27-ranked Lady Badgers had other plans as they rallied late to deal the 28th-ranked Lady Vols a 9-4 loss at Centennial Park.
"It's hard because when you have a game like that where it plays and plays and plays, you expect more," said Lee Williams head coach Melody Van Zandt. "You think you're going to come out on top and then when you don't, it's heartbreaking."
The Lady Vols jumped out to a 1-0 advantage after the first inning and rode the pitching of Kenzie Peterson as the junior struck out three, walked three and more importantly yielded just one hit in four innings of work.
"Her first couple of innings were solid," Van Zandt said of Peterson.
But then Prescott found its groove to tie it in the fifth and then busted the game wide open in the sixth as all but one batter scored for a 9-1 advantage.
"It's always a tumbling effect," Van Zandt said. "Once there's one hit into a gap, it just happens. If a team can hit, they can hit. They can find holes. That's what they do every time."
Lee Williams was down big, but it continued to show its grit. The Lady Vols answered with a run in the bottom of the sixth and then scored two more in the seventh. Lee Williams even had the bases loaded with one out in the final frame, but couldn't find a way to plate any more runs.
"We brought it back up and got it back together," Van Zandt said. "It seems like something we like to do – we like to slow down and then we come back up. We have to figure it out. We'll take it one game at a time."
Courtney Janney led the Lady Vols with a 3-for-4 day, highlighted by a RBI double in the first and an RBI single in the sixth. Lee Williams' Becky LeClair added a two-run single in the seventh along with a double in the sixth. She also scored two runs, while Kara Mertens and Tiare Baptista accounted for the other two runs.
The rest of the Lady Vols' lineup combined for just two hits, four walks and nine strikeouts against Prescott's starting pitcher McKynzie Hyslip.
"We just have to learn to put our hits together," Van Zandt said. "We have to do it Nos. 1-9 instead of just Nos. 1-4. I need them all hitting like we were and we're not right now. We're going to figure out."
Lee Williams (3-9, 0-7) is back in action Thursday with a 3:45 p.m. rematch at Prescott (3-6, 1-4).
"We play them again Thursday," Van Zandt said. "Now I know what I'm up against. So it'll be a little different."