Originally Published: April 8, 2018 6 a.m.
Council heard presentations on the potential for additions to Centennial Park at Tuesday's meeting, including six to eight soccer fields or four soccer fields and a five-acre lake.
Mike Meersman, parks director, presented Council with costs for adding soccer fields at the park. The first consideration relates to the ownership of the land.
The 24-acre area adjacent to the park that is being considered for additions is currently owned by Mohave County. It is bordered by Mohave Wash on the west, Burbank Street on the east and Beverley Avenue on the south. Options for securing the land for the City include a long-term lease, a land swap of land of equal value and purchasing the land.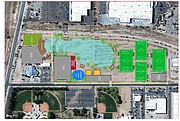 "There's enough property within this area without a lake to have between six and eight full-sized soccer fields," Meersman said. "This would give us the much-needed turf and sports play areas that we've been talking about in our capital improvement projects for the past five years. With the growth of soccer, this would be an awesome facility for soccer."
With lighting, bleachers and amenities, the total cost for eight natural grass fields would be about $5 million and $1.2 million per year in maintenance. For turf, about $8 million and $400,000 per year in maintenance. Six natural grass fields would cost about $4.2 million and $900,000 per year in maintenance. Turf for six fields would total about $6.5 million and $300,000 in yearly maintenance.
Synthetic turf would be more expensive initially, but would cost less to maintain on a yearly basis. However, Meersman noted additional concerns with going the synthetic route.
"With synthetic turf there are a couple of issues that I've heard brought up," he said. "One of the things in the desert, the life expectancy of it is between 10 and 15 years … Another concern with it is it's a very hot surface to play on with the heat and the sun that we have." Four soccer fields could be constructed if the lake comes to fruition. Kingman Elks representative Bill Shilling explained to Council how the lake conversation got started.
"The Elks and Arizona Game and Fish have put together this program for years, a community fishing program," Shilling said. "What we did was identify a need in the community (for) recreational fishing opportunities for Kingman youth in an area where they could either ride their bike to or walk."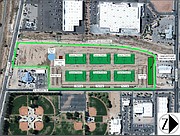 When the proposal was for a 10-acre lake rather than a five, the County supervisors in 2016 agreed to take a $100,000 game and fish grant, which Shilling referred to as seed money for the project. Arizona Elks Major Projects agreed to contribute some $300,000 for construction. Shilling said all of the entities agreed that the project could have a big impact on the community, and that there's a possibility for additional funds to be directed toward the project. Another $200,000 grant application is being considered by the Arizona Sportsmen for Wildlife Conservation.
" ... (W)e could really develop a good partnership," Shilling said. "We'd have the county owning the land, we'd have game and fish helping with construction and lake management, we'd have the City Parks Department eventually helping out with maintenance of what now is being proposed is the soccer fields at the north end."
The total cost of four fields and a five-acre lake, with natural grass, would be about $3.4 million and $600,000 per year in maintenance costs. The lake project with fields of synthetic turf would cost about $4.9 million and $200,000 per year in maintenance.
Shilling also spoke on an obvious concern with the lake addition – water usage. He said water for the lake would resemble water usage at the golf course, and that with the benefit to the community, "… It's really not that much water when you look at it."
The information was given to Council in work session, meaning discussions with the City are in the early stages. Shilling said while the project has been discussed and planned for about three years, he believes more funds could be raised were the City to be a partner on the additions.