Originally Published: April 15, 2018 6 a.m.
KINGMAN – Anna Benson never would've dreamed of running in the Boston Marathon.
The Kingman resident was only hoping to finish her first race in 2014, but then she qualified for Boston during her next marathon in January 2017. Now more than a year later, the day has finally come for Monday's 26.2-mile race on Patriots' Day in Massachusetts.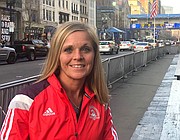 "When we flew in Thursday, it started to feel for real – this is really happening," Benson said. "Something I've been looking forward to a long time and now it is here."
Benson's journey started during her 20s when she was diagnosed with multiple sclerosis. While some would have given into the disease, Benson didn't use it as an excuse. She began running to get stronger and the decision paid off.
Now all these years later, she ran a 3 hours, 30 minutes and 24 seconds to take 38th out of 1,021 runners at the 2017 Arizona Rock 'n' Roll Marathon. That was just the beginning though as she started running 20 miles every other week to keep her endurance up. She also joined a step class with her friend Heather Short, but unfortunately broke her foot and had to be sidelined for eight weeks.
While some would have taken it as a setback, Benson found a silver lining despite being a little frustrated.
"I was really upset when I wasn't able to run for those eight weeks," she said. "But if I would have ran for those eight weeks, I would have been over trained and a lot more tired."
Once Benson was back to full health, she started running 50-70 miles a week to prepare for the big day. She may have thought she was done with the biggest obstacles, but Monday's forecast show a 100 percent chance of rain and winds of 20-30 miles per hour.
However, you won't find Benson complaining.
"I'm hoping that the adrenaline will kick in and I'll be able to fly," Benson said. "I'm hoping the wind will take me right to the finish line. With the grace of God, I'll get across that finish line with a good time."
No matter what happens though, Benson will accomplish something no other Kingman resident has done.
"I've never known anyone else who has ran the Boston Marathon from Kingman," Benson said. "I know that a couple of people tried to qualify, but not anyone who's actually come over here to run."
Benson will have plenty of support in Boston as her parents, brother, husband and children all made the trip to cheer her on.
"I'm very glad this is the last part of it," Benson said. "Then of course, I want to get to New York if I get a good enough time."
Only time will tell whether or not Benson can continue her journey, but one thing is for sure – she's thankful for all of the help along the way.
"Knowing that I have all the support from my co-workers, friends, church family and everybody is a really good experience," Benson said. "It makes me want to work a little bit harder for it."