Originally Published: April 20, 2018 5:55 a.m.
Document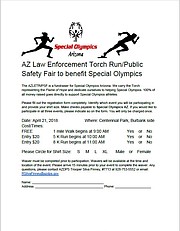 KINGMAN – The Arizona Law Enforcement Torch Run and Public Safety Fair helps benefit the Special Olympics where 100 percent of the proceeds go to the athletes to help them get to their events.
The fundraiser will take place throughout the state of Arizona where seven torches will be carried around the state and make its way to its final destination in Mesa.
Trooper Rochelle Silva Finney is one of the many law enforcement volunteers in Kingman helping raise funds for Special Olympics.
"Kingman is considered Leg I," Silva-Finney said. "The torch will be carried from Kingman, to Bullhead City, to Lake Havasu City, then to Quartzite and finally to Mesa.
Department of Public Safety, Mohave County Sheriff's Office, Kingman Police Department, and the GEO state prison, and area fire departments are several of the agencies participating in the event.
Locally there are two Special Olympics teams, Route 66 and Kingman 66. Silva-Finney also said 90 percent of the money raised comes back to Mohave County.
"They are busy all the time. They need money to go to their events," she said.
DPS will offer hands-on experiences for the public to learn about its vehicles and helicopters.
"Children can climb into the helicopter. Even adults can get in," Silva-Finney said.
Children will get to play with the sirens, lights and have the opportunity to see inside a police car.
The public can also participate in a 1-mile walk, 5K or 8K run. Registration for both of the runs is $20 and participants can sign-up at the event. The 1-mile walk is free and will start at 9 a.m., followed by the 5k run at 10 a.m. and the 8k at 11 a.m.
The fair will also have a dunk tank, carnival games, tug of war, face painting, a K-9 demonstration and food.
"For $1 you can dunk a police officer," Silva-Finney said.
Most of the carnival games are at a low cost to play and the food will be on a donation basis. There will be hamburgers and hotdogs.
At the fair, an 8-foot-by-11-foot shed built by the inmates from the GEO will be raffled.
The fair takes place from 8 a.m. to 2 p.m. Saturday at Centennial Park. Admission is free.