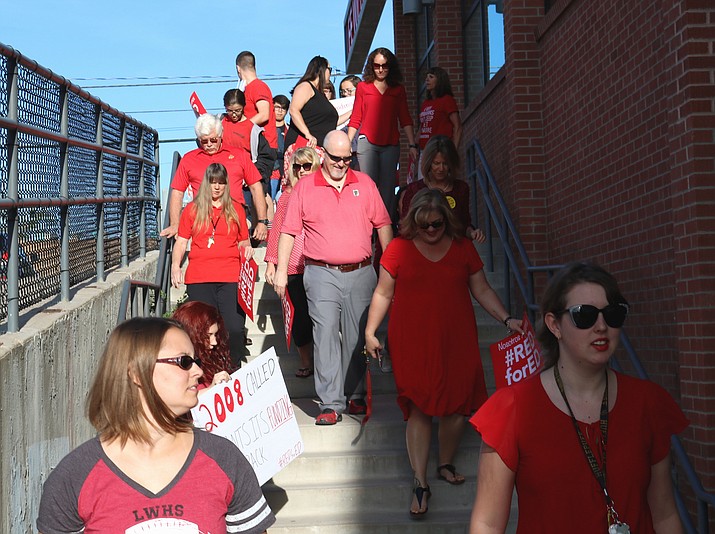 Photo by Travis Rains.
Originally Published: April 25, 2018 5:59 a.m.
KINGMAN – Arizona Gov. Doug Ducey rolled out a proposal that would increase teacher salaries by 20 percent by 2020, but many local educators believe it falls short of the point.
"The reality is it's not only about teachers getting a 20 percent raise," said Jasmine Marin, educational interpreter at Lee Williams High School. "While that would be great if they did, it's the entire education budget that needs to be improved. Kids can't take field trips. We don't have money for things like that."
Marin also pointed out that sources of funding for the raises in Ducey's proposal are cause for concern.
"One of the issues for the proposed funding that he's suggesting, which there's nothing in writing yet, nothing solid, is that he's trying to take funding from other social services to provide for the schools," she said. "And that's just not sustainable or reasonable."
Instead, Marin argued that a more sustainable source of funding would be provided by the collection of corporate taxes.
With unrest regarding educational funding continuing even after the announcement of Ducey's proposal, 66 percent of KUSD teachers voted in favor of a walk-out Thursday. Teachers at Lee Williams High School took part in another walk-in, as opposed to a walk-out, Tuesday morning in an effort to show that they want to be in the classroom.
"We don't want to walk out," said Vickie MacLean, English teacher at LWHS. "I don't think you could talk to a teacher on this campus or in this district who looks forward to walking out ..."
MacLean added that the lack of funding in education has resulted in program cuts and additional hardships on educators within the classroom. She said the district does what it can to help its teachers and students, but that those solutions can't address the underlying issues.
"Our science teachers are making photo copies, they don't have books," she said. "A lot of our math books are pretty outdated, and so if the state could free up some funding then our district could do even better for us."
Marin, who works with deaf students, said they are "grossly underserved" in part because Arizona doesn't pay competitive wages.
"It's really hard to get qualified interpreters to work in education, and deaf kids' education suffers, and that is what's near and dear to my heart," she said.
Mohave County Treasurer Cindy Landa Cox was at Lee Williams Tuesday morning in show of support for teachers. She said after looking at facts, such as how an 11.6 percent raise would make Arizona 48th in the country, she was happy to be there supporting teachers.
Cox is also concerned about the lack of funding for classroom materials, even items as basic as pens. She said those materials were provided for her when she was a student, and having teachers and parents foot the bill doesn't work to provide for the future.
"Education is important, period," Cox said. "It is the future."
According to a letter sent to parents from Superintendent Roger Jacks, all Kingman Unified School District schools, with the exception of La Senita Elementary School, will be closed Thursday for the walk-out. However, it will be a work day for school employees.
Susan Chan, executive director at Kingman Academy of Learning, said in a press release that all KAOL schools and offices will be closed Thursday and offered a list of multiple community groups offering to assist parents in need of day care options:
The Club for Youth, 928-718-0033; City of Kingman Parks and Recreation Department, 928-692-3105; and All Starz Gymnastics, 928-757-1800.