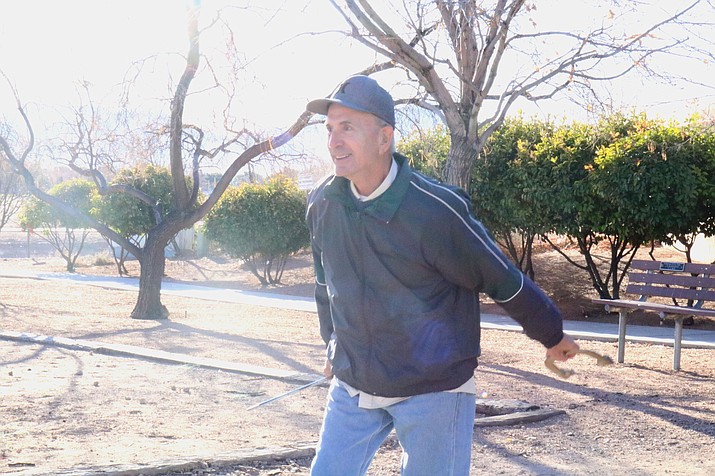 Photo by Travis Rains.
Originally Published: February 8, 2018 5:58 a.m.
KINGMAN – On Mondays, Wednesdays and Fridays clinking sounds can be heard from behind Kingman's Kathryn Heidenreich Adult Center, but there's no cause for alarm; it's just a local game of horseshoes.
Marty Jones, Joe Hogue, Rich Pierce and Ty Frazier started playing at about 9 a.m. Wednesday, making sure to get in a few warmup throws before keeping score.
"It's very inexpensive, good exercise and gets us to socialize a little bit too," Frazier said. "And it gets us off the couch."
They didn't always play at the center. The group, which frequently includes more people, one even traveling from Dolan Springs, threw their horseshoes at a local park.
"We played at the park with the gophers and the weeds," Pierce said.
Hogue wouldn't recommend it.
"You couldn't ever see the stake because the weeds were so high," he said.
Half a year ago those who had been playing at the park decided that they'd had enough, and took it upon themselves to create a course worth playing at behind the center. What was just two stakes in the ground turned into a court not only to be proud of, but that is enjoyable to play at as well.
"We spent our own money, bought materials and built it ourselves," Hogue said. "The people up there (at the center) have been great."
Not much stops the games from happening other than rain and doctor appointments, the men said. If it's a little cold, they've been known to bring out propane heaters to stay warm while throwing. It doesn't hurt that it's a free activity, Jones said.
The games are every Monday, Wednesday and Friday at 9 a.m. behind the Kathryn Heidenreich Adult Center, 1776 Airway Ave., in Kingman and typically run for a few hours.
"Come out and enjoy and have some fun," Frazier said.