Photo by Beau Bearden.
Originally Published: February 9, 2018 6 a.m.
KINGMAN – In only its sixth year as a program, it wouldn't be out of the question for the Lee Williams High School wrestling team to still be going through growing pains. But that isn't the case as the Vols have consistently sent grapplers to state the last few seasons and they'll have three at today's Division III State Tournament.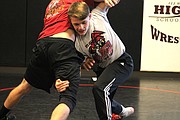 "This only being my second season, even qualifying for state is huge for this program – to go place is even bigger," said Lee Williams head coach Dan Ondrejka. "It keeps paving the way. I say it to these guys all the time, 'We keep writing Lee Williams wrestling history.'"
The Vols arguably made the biggest mark in the record books last season when Nic Verville won the city's first wrestling state championship in 34 years, but the trio of Jimmy Wayman (145), Johnathan Montoya (160) and Dylan Shaffer (170) are looking to make some noise this year at the Prescott Valley Event Center.
Wayman leads the pack with a 52-7 record and opens the tourney against Show Low's Carter Long (20-12). Wayman picked up a win when the two grapplers faced off earlier this year and he's confident he can do that again. With a victory, Wayman would advance to a match against the winner of Walden Grove's Evan Killgore (44-9) and Casa Grande Union's Julian Rodriguez (29-7).
Wayman is leaning towards a potential match with Killgore, and while he hasn't faced him this season, he's done his fair share of research.
"My dad and I scope everybody out," Wayman said. "So I know who he is and it's going to be a good match. It's going to be a brawl."
Wayman's confidence is thanks to the sophomore advancing to state last season. He has aspirations to finish in the top four this year and plans to do that with his knowledge of competing on a big stage.
"The state tournament is a completely different ball game," Wayman said. "The arena is huge, there are hundreds of people there. It'd be scary to people who weren't used to it, but I go to tournaments outside of school all the time. So I'm a little more accustomed than most."
Montoya, who is in his first year with the Vols after moving from California, has a tough opening match against Chino Valley's Keller Rock (34-1).
The senior isn't focused on that fact though.
Instead, he's glad he accomplished his goal of advancing to state and now it's time to demonstrate how much he's waited for this day.
"I kind of think of it as my back's against the wall," Montoya said. "There's not much else I can do – just go all out. It almost feels as if you're cornered. I'm going to give it all I have because it's my last year and my last tournament."
Montoya's motivation was apparent from the very first day he stepped on the mat and he earned the title of team captain because of it. Now he has the opportunity to showcase his skills against the best wrestlers in the state.
"Getting that captain spot motivated me even more and now going to state – everything is just coming together," Montoya said. "It's awesome."
Shaffer rounds out the trio of Volunteers headed to state and he has a favorable match against American Leadership Academy's Mark Dietze (35-11). While Shaffer hasn't faced him yet, the senior is ready for one last challenging tournament and is leaning on his experience from last season.
"I just know I need to go in there more aggressive," Shaffer said. "If you just sit back too much, there are a lot of good wrestlers that will just take advantage of it."
Shaffer added that his goal is to place, whether that be third, fourth or sixth. He knows he can accomplish it though, thanks to the help of his coaches.
"Coaches Ondrejka and (Ray) Sanchez help me a lot," Shaffer said. "I'd be nowhere near where I'm at right now if they didn't help me out. They'll go out of their time to do it. They have to do it after work, but they'll still be here."
Wayman also gave coach Sanchez a lot of credit in his development – helping him tweak the little things over the summer and throughout the season.
"I definitely wouldn't be as good as I am now without him," Wayman said of Sanchez.
Ondrejka also supports all of the praise for Sanchez.
"Coach Sanchez should get just as much credit as me when it comes down to it," Ondrejka said. "We wouldn't be where we are without coach Sanchez in the room. … His knowledge and his passion for the sport has taken this team a long way. I couldn't have done it without him."
More like this story