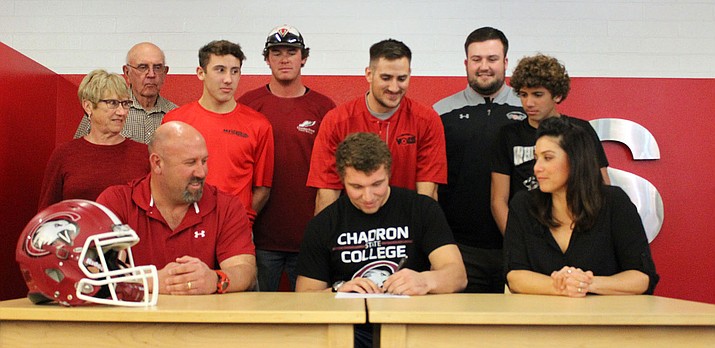 Photo by Beau Bearden.
Originally Published: February 10, 2018 4:17 p.m.
KINGMAN – With his family and friends at his side, Kael Juelfs lifted a big weight off his shoulders with just one signature. The Lee Williams High School senior made it official – he would continue his football career at Chadron State College in Nebraska.
"You don't have to worry about as much now," Juelfs said. "It gets stressful looking for a college sometimes. You don't want to make the wrong decision, but you just have to go with your gut and work hard. At the end of the day, things are probably going to turn out right."
The future should hold great things for Juelfs as the former Vols linebacker moves onto a college where his father, Joe, is a Hall of Famer. While Juelfs was never pressured by his parents to choose Chadron, the fact that he could continue the legacy played a role in his decision.
"I want to show them I can do it, too," Juelfs said. "It's a little bit of a chip, you would say. Not much, but I want to prove it to everyone that knows me that I can work hard and I can be successful, too."
He has plenty of supporters in his corner, including Lee Williams football coach Clint Sasse – who spent time playing and coaching at Chadron.
"That's his type of place – Chadron State is a program that emulates hard work and everything that basically exemplifies Kael as a football player," Sasse said. "He's a hard worker, he's not too glorious or glamorous on anything. He just wants to work hard and be a good football player."
Juelfs demonstrated that work ethic during his senior year – leading the Vols with 123 total tackles, including 74 solo stops, seven tackles for loss and one sack. His success on the field garnered him 4A All-Conference accolades, along with being selected the 4A Grand Canyon Region Defensive Player of the Year.
Juelfs has no doubt proven he can get it done at the high school level, but Sasse knows he'll have to continue giving 110 percent to excel at the next level.
"It'll take hard work," Sasse said. "I know the Chadron guys really well, but they're never going to guarantee anybody a spot. Kael knows that and everyone knows that. We tell Kael that nothing is guaranteed in that program – you have to come in, work hard for it and show your toughness right off the bat. Kael will do a good job of that."
It wasn't an easy journey to this point for Juelfs though. He had to overcome sitting out his sophomore year due to an injury, but it made him stronger.
"That did a lot for me," Juelfs said. "I realized that anything can be taken away from you. That will stick with me forever because you have to work hard every day like it's your last. That's always been part of my work ethic and my philosophy."
Sasse hopes that Juelfs' character creates a ripple effect for many years to come at Lee Williams.
"Kael laid a foundation for a lot of the young kids to look up to and for them to strive for," Sasse said. "… And eventually getting to this point, so we can have more signing days – send more players to Chadron State. That's what I want."
More like this story