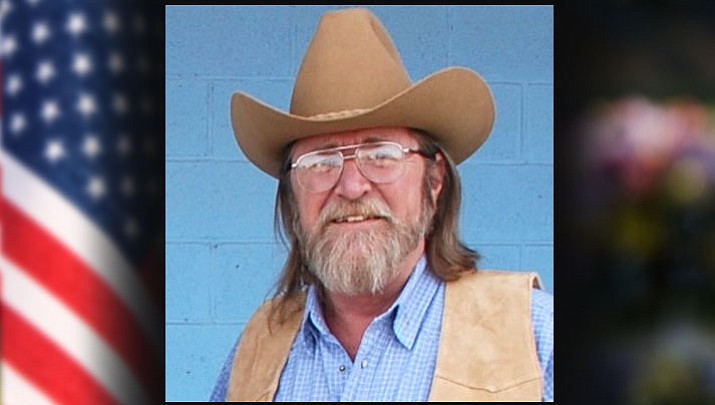 Originally Published: February 11, 2018 6 a.m.
Bobby Don Taylor, 63, passed away on Jan. 31, 2018 at Kingman Regional Medical Center in Kingman, Arizona after a short battle with cancer. He was born on Feb. 23, 1954 in Richmond, California to Billy Lee and Beverly Ann (Johnston) Taylor.
Bobby grew up in California.  After obtaining his GED, he joined the Army in 1972 and served for 6 years. He was the recipient of The National Defense Service Medal, Army Good Conduct Medal, and The Army Commendation Medal for Meritorious service while assigned to the 151st Ordinance Detachment, 100th Supply and Service Battalion in Fort Sill Oklahoma. He was honorably discharged in 1978, achieving the rank of Specialist 5th Class.
After the Service, Bobby attended Mira Costa College, Oceanside, California where he received an Associate in Science Degree in Law Enforcement in 1979 and then went on to earn an Associates in Arts Degree in Business Administration in 1982. In 1991 he earned Basic Electronics Technology Certificate from Palomar College, San Marcos, California.
While attending college, he began work for Hughes Aircraft Industrial Products Division as a tester. Bobby worked for Hughes Aircraft through 1992 where he worked his way up to Production Assurance Supervisory Staff. After leaving Hughes Aircraft, Bobby has held many positions to include: A Wrangler – Black Mountain Trail Rides; Senior Lead Machine Operator – WNI/Central Printing Facility; Quality Control Manager – Guardian Fiberglass; Blackjack Dealer – Edgewater Casino; Maintenance – Arizona State Prison-Kingman; and a Clock Repair Man – The Clock Man. Throughout Bobby's working life he focused on continuing his education and earning certifications which would advance his career and he encouraged everyone to never stop learning. Bobby retired in 2014.
In 1993, Bobby made Golden Valley his home and in 2001 Bobby married Anna in Vista, California and they were happily married for 16 years here in Golden Valley. Bobby also believed that through service one could help others by giving them a hand up – not a hand out. It was these beliefs which lead him to become a member of several community organizations: American Legion Post #22, Sons of the American Legion Post #22, Vietnam Veterans of America Chapter #975 and a lifetime member of Golden Valley Pistoleros and Roses. During his many years with the Golden Valley Pistoleros and Roses, he was very active in promoting the local events used to raise funds for the children of Golden Valley and earned his gunfighter name "Blaze".
Bobby was preceded in death by his father Billy Lee Taylor, his sister Lee Ann Taylor, and his two brothers, Billy Taylor and Donny Taylor. Bobby is survived by his mother Beverly and dad Charles Coker of Fresno, California; his spouse Anna of Golden Valley, Arizona; His daughter Dawn Barker (mother Mary (Moffett)) and her husband Chas Barker and her sons, Bobby's grandsons, Chase Parlanti, Keegan Parlanti and Lincoln Barker of Kingman, Arizona; his stepson Christopher Williams and his wife Jennifer, along with Bobby's grandsons Jace and Ty Williams of Taylorville, Utah; his stepson Eric Williams of Saint Cloud Minnesota; and his brother Charles D. Coker of Fresno, California. Bobby is also survived by extensive list of family and friends who loved and adored him.
Bobby has always enjoyed a good party. On Friday, Feb. 23, 2018 at American Legion Post #22, 3435 N. Verde Rd, Golden Valley, Arizona there will be a party to celebrate his life. In lieu of flowers, the family requests donations to be made to the Veterans Sportsman Alliance (VSA), 3900 N. Stockton Hill Rd B335, Kingman, AZ 86409.