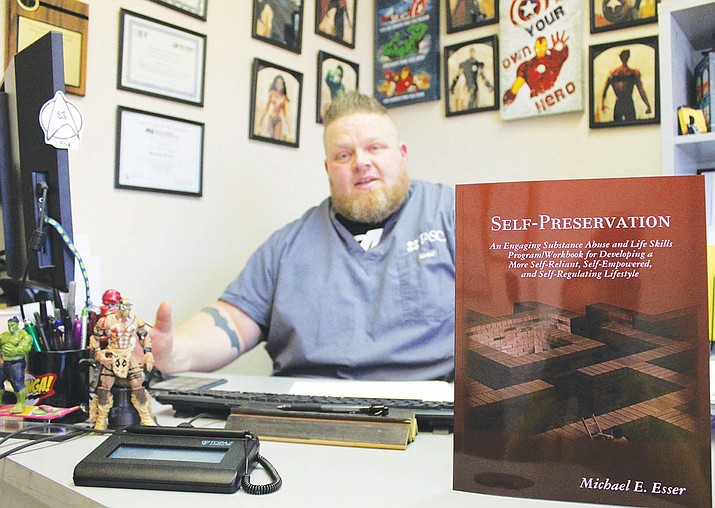 Photo by Vanessa Espinoza.

Originally Published: February 11, 2018 6 a.m.
Michael Esser, a clinician at TASC Solutions, wrote a workbook called "Self-Preservation" to help rebrand DUI education by getting to a place where charges can be reduced and address the person as a whole. The book focuses on developing new life skills for people who are dealing with substance abuse.
The workbook contains different lessons to help substance abusers self-reflect on their personal lives. The program is an opportunity for clients to learn how to take responsibility and take the opportunity to grow.
Esser mainly uses his workbook within his own group sessions, but it is available for purchase. The book contains different thought exercises that help apply the educational part to everyday life.
Esser's inspiration to write the book came from events which happened in his life. In 2013, his 21-year-old daughter was killed by a drunk driver who had just completed a DUI program nine days before the incident. Esser said, at the time of his daughter's death he was teaching DUI classes.
His group sessions consist of DUI, substance abuse, domestic violence and drug court offenders. In his groups, Esser focuses on engaging with the client rather than giving them a lot of information.
"The group sessions are a way for clients to provide an outlet, to share and to be provided with feedback," Esser said.

He helps his clients re-evaluate their current life from past experiences. Esser said, he tells his clients to pick up a hobby or go back to a time that made them happy. His hobby is collecting superhero or Star Wars collectibles because it takes him back to a time he was happy.
Esser has received positive feedback on the way he runs his groups at TASC through an anonymous survey he distributes to his clients. He said, his clients have "seen growth in themselves" and are "happy with services."
Esser uses public access searches to see if any of his clients who have come through TASC re-offend, and only 4.8 percent have.
Other people have also commented on his success such as the Deputy Chief of Probation Lance Bowen and Mohave County Superior Court Judge, Rick Williams. Williams and Bowen have known Esser for about six years from when the Mohave County Adult Drug Court Program started in January 2012.
The drug court program holds commencement ceremonies twice a year, and many of the graduates have expressed their appreciation towards Esser.
"His heart is really in it," Bowen said.
At the end of the day, Esser wants his clients to show people that they are going to be stronger, smarter, and faster when they are done with the process.
Editor's note: This story has been corrected in order to clarify that Esser was teaching classes in 2013, not that he was "going through" them.