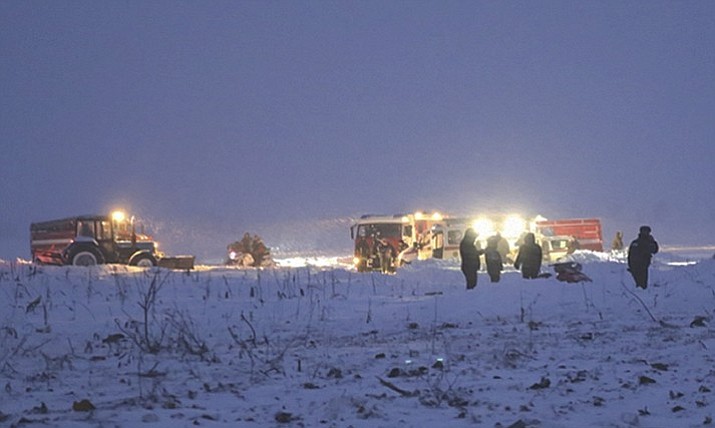 Originally Published: February 12, 2018 6 a.m.
MOSCOW — A Russian airliner that had just taken off from the country's second-busiest airport crashed Sunday, killing all 71 people aboard and scattering jagged chunks of wreckage across a snowy field outside Moscow.
The pilots of the An-148 regional jet did not report any problems before the twin-engine aircraft plunged into the field about 40 kilometers (25 miles) from Domodedovo Airport, authorities said.
The Saratov Airlines flight disappeared from radar just minutes after departure for the city of Orsk, some 1,500 kilometers (1,000 miles) to the southeast.
Transport Minister Maxim Sokolov confirmed that there were no survivors.
The 65 passengers ranged in age from 5 to 79, according to a list posted by the Russian Emergencies Ministry, which did not give their nationalities. Six crew members were also aboard.
New York attorney general files lawsuit against Weinstein
NEW YORK — New York's attorney general has filed a lawsuit against Hollywood movie producer Harvey Weinstein and the Weinstein Co. following an investigation into allegations of sexual misconduct.
In court papers filed in Manhattan on Sunday, state Attorney General Eric Schneiderman (SHNEYE'-dur-muhn) says the Weinstein Co. "repeatedly broke New York law by failing to protect its employees from pervasive sexual harassment, intimidation and discrimination."
Schneiderman says any sale of the company "must ensure that victims will be compensated" and that employees will be protected.
Telephone and email messages seeking comment from Weinstein were not immediately returned.
Trump budget plan already outdated
WASHINGTON — In a twist on Washington's truism about presidential budgets being D.O.A., President Donald Trump's 2019 fiscal plan due Monday is dead before it gets there.
The original plan was for Trump's new budget to slash domestic agencies even further than last year's proposal, but instead it will land in Congress three days after he signed a two-year budget agreement that wholly rewrites both plans.
Trump's Monday submission was completed before the budget pact delivered the nearly $300 billion increase above prior "caps" on spending. The 2019 budget was designed to double down on last year's proposals to slash foreign aid, the Environmental Protection Agency, home heating assistance and other nondefense programs funded by Congress each year.
"A lot of presidents' budgets are ignored. But I would expect this one to be completely irrelevant and totally ignored," said Jason Furman, a top economic adviser to President Barack Obama. "In fact, Congress passed a law week that basically undid the budget before it was even submitted."
Trump would again spare Social Security retirement benefits and Medicare as he promised during the 2016 campaign. And while his plan would reprise last year's attempt to scuttle the "Obamacare" health law and sharply cut back the Medicaid program for the elderly, poor and disabled, Trump's allies on Capitol Hill have signaled there's no interest in tackling hot-button health issues during an election year.
Kim Jon Un's sister ends her visit to the Olympics
GANGNEUNG, South Korea — North Korean leader Kim Jong Un's sister headed home Sunday night after a whirlwind three days in South Korea, where she sat among world dignitaries at the Olympics and tossed a diplomatic offer to the South aimed at ending seven decades of hostility.
Kim Yo Jong and the rest of the North Korean delegation departed for Pyongyang on her brother's private jet, a day after they delivered his hopes for a summit with South Korean President Moon Jae-in during a lunch at Seoul's presidential palace. It was a sharp, but possibly fleeting, contrast with many months of rising tensions connected to the North's continued development of nuclear weapons and long-range missiles.
They capped their final day in South Korea by joining Moon at a Seoul concert given by a visiting North Korean art troupe led by the head of the immensely popular Moranbong band, whose young female members are hand-picked by Kim Jong Un.
Accepting North Korea's demand to transport more than 100 members of the art troupe by sea, South Korea treated the Mangyongbong-92 ferry as an exemption to the maritime sanctions it imposed on the North, a controversial move amid concerns that the North is trying to use the Olympics to poke holes in international sanctions.
Kenworthy embracing LGBT flag-bearer role in Pyeongchang
PYEONGCHANG, South Korea — At the Sochi Games, he was the medal-winning athlete who overshadowed that achievement by rescuing five stray dogs. In Pyeongchang, he's vacuuming up attention with his "We're here. We're queer. Get used to it" posts and photos of him kissing skater Adam Rippon, and taking swipes at U.S. Vice President Mike Pence.
Eventually, Gus Kenworthy hopes, he'll be talked about more for his skiing, the insane tricks and risks he and other slopestylers take negotiating the big jumps and zany rails of the Olympic course.
By vigorously embracing an unofficial role as Olympic flag-bearer for the LGBT community, Kenworthy is edging sport closer to the point where being a gay athlete is no longer even an issue.
That, at least, is his plan. But sports' aren't there yet. Proof? Well, for starters: The people who have confided to him at these games that they are gay but haven't yet taken the step he took in 2015 to say so publicly.
"That's been insane to me, and I think it also just shows that there's a lot more of us," Kenworthy said in an interview Sunday. "But it's still kind of a condemning time and hopefully one day it won't be."
Dems taking another run at blocked memo on Russia probe
WASHINGTON — Democrats on the House Intelligence Committee are prepared to black out parts of their memo about the FBI's Russia investigation to ensure there's no harmful spilling of secrets, then try again to get President Donald Trump to let it come out. A White House aide said Sunday he's confident it will be released once Democrats "clean it up."
That possible nudge toward progress came as both sides traded steamy recriminations over the matter.
Rep. Adam Schiff of California, senior Democrat on the House Intelligence Committee, said Trump is putting his personal interest above the country's in blocking a memo that "completely undermines his claim of vindication" in special counsel Robert Mueller's continuing investigation of the 2016 Trump campaign's relationship with Russian interests and Russia's meddling in the election. "The president doesn't want the public to see the underlying facts," Schiff said on CBS's "Face the Nation."
The White House legislative director, Marc Short, countered that Democrats padded their memo with sensitive information, knowing Trump would stop its release, in an effort to make him look obstructionist.
"We're not afraid of transparency," Short said on NBC's "Meet the Press." ''I think you're going to see us release the memo."
New gold rush: Energy demands soar in Iceland for bitcoins
KEFLAVIK, Iceland — Iceland is expected to use more energy "mining" bitcoins and other virtual currencies this year than it uses to power its homes.
With massive amounts of electricity needed to run the computers that create bitcoins, large virtual currency companies have established a base in the North Atlantic island nation blessed with an abundance of renewable energy.
The new industry's relatively sudden growth prompted lawmaker Smari McCarthy of Iceland's Pirate Party to suggest taxing the profits of bitcoin mines. The initiative is likely to be well received by Icelanders, who are skeptical of speculative financial ventures after the country's catastrophic 2008 banking crash.
"Under normal circumstances, companies that are creating value in Iceland pay a certain amount of tax to the government," McCarthy told The Associated Press. "These companies are not doing that, and we might want to ask ourselves whether they should."