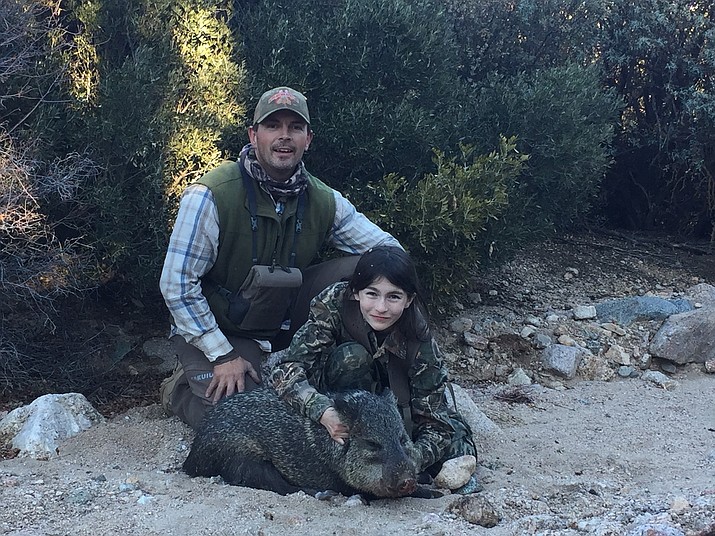 Originally Published: February 13, 2018 5:59 a.m.
It is a fact that many times when we are in the field we meet others who are also doing the same thing we are: hunting.
We often stop and exchange information with each other, especially when we are on youth hunts.
Adults know that it is the experience and possible opportunity to harvest an animal that these young hunters are seeking, and so hunters freely interact with each other to make sure the kids have a good experience.
In the past several months while assisting young hunters on their hunts in Unit 16A (Hualapai Mountains), I have had the opportunity to meet some other youth hunters and their parents in the field. We have shared experiences and information with them.
I'll share some of the experiences we had and hope that in the future, especially when hunting with new or youth hunters, everyone will keep these thoughts in mind. Remember, the youth are the future of outdoor recreation in America, and we as adults need to set an example on how to act when we do interact with other hunters in the field.
A few weeks ago, myself and friends Jay Chan and Glen Leon were in Unit 16A looking for javelina. Hannan Bruni had got a leftover tag for that hunt. Her great-grandfather, Harley Young, who is 85 years old, lives in Phoenix and had got the tag for her and set up the hunt.
Hannan is new to hunting and has never taken a big game animal in Arizona. Her only experience came when her great-grandfather took her to a private game ranch in California where she had taken several rams and an exotic sheep.
Neither had been in Unit 16A before, so we offered to lend them a hand in finding a javelina.
We started the hunt on the backside of the Hualapais on the Cane Spring Ranch. We met with Anita Waite and Sherwood Koehn, owners of the ranch, who are huge supporters of sportsmen, and especially kids, who hunt on their 70,000 acre ranch.
We got some tips from them on where we might find some javelina and set out to do some serious glassing.
Despite doing a significant amount of glassing that day in areas we had seen javelina before, we came up with nothing. Day Two was much the same, except we did see a number of deer, coveys of quail and even three roadrunners. And it was on this day that we would meet local sportsman Kenny Upton and his 12-year-old daughter Natalie.
Our plan had been to sit on a waterhole that was being visited by javelina in the hopes that maybe a herd would come in for a drink. I had dropped off Glen and Hannan at the spot we were planning on sitting, and Harley and I drove off and parked a short distance away.
Then I got a call from Glenn. He told me there was a blind near the water and other hunters were sitting in it.
I drove back and picked up Glen and Hannan and immediately left the area.
So the question is this: Could we have set there too? After all it is public land.
The answer of course is no way do we stay there. Kenny and Natalie had got there first and as far as I was concerned that spot was theirs. To put it quite succinctly, "It's just the right thing to do."
Though we didn't have any luck that day, Natalie did. She bagged her first big game animal from that blind a few hours later. The perky young lady got a boar at 80 yards using a Savage 24V in 222 caliber.
The next morning I decided to go to an area on the west side of the Hualapais. I had seen some javelina previously in an area I knew was private property and I wanted to ask the landowner if we could hunt there.
As a sportsman, I always ask the owners of private property if I can hunt on their property, even if it is not posted. Again it is the right thing to do and maintains good hunter-landowner relations.
Unfortunately, the property owner wasn't at home and we waited a long time hoping they would return. There was no way we would hunt there without permission, so we left.
Ultimately, I decided to go back around the mountain and finish up our hunt on the east side where we had previously met Kenny and his daughter. We arrived and got set up around 2:30 p.m. and sat there quietly until dark. Nothing ever came in.
Though Hannan never got to bag a javelina on her hunt, I think she learned a lesson about what responsible hunters do.
First of all she understood that when meeting another sportsman in the field where you want to hunt, and they are there first, you move on. Secondly, she learned that before you hunt on private property, you always obtain permission. And if you can't get permission, you leave and don't hunt there.
The hunt I was on with Hannan and her great-grandfather made a lot of memories for all of us.
Same with Kenny and Natalie. Hannan was happy when she heard that Natalie had got a pig. And Natalie expressed her thanks to Hannan for allowing her to hunt with her dad at that water without interference.
It was a good lesson for the kids.
It should be a good lesson in sportsmanship for all of us.