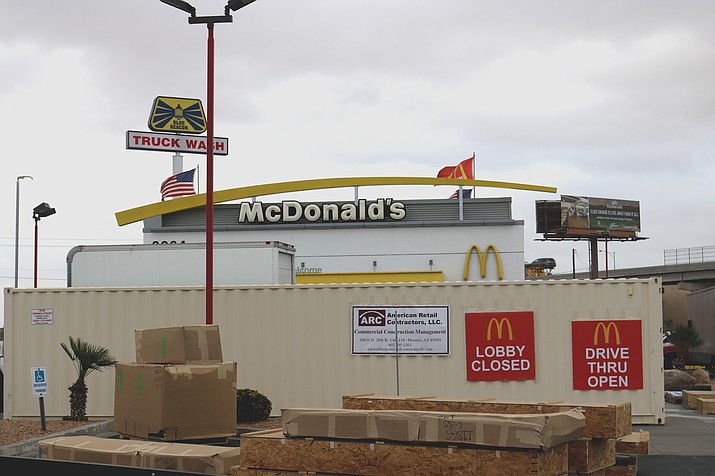 Originally Published: February 13, 2018 5:57 a.m.
KINGMAN – The McDonald's at 3264 Andy Devine Ave., is undergoing renovations so as to put more choice and control in the hands of their customers, improving their dining experiences.
The restaurant is making numerous changes at the Andy Devine location that will help streamline the ordering process. When finished, it will be one of the first McDonald's locations in Arizona boasting a new look and feel in addition to updated technology and services.
"We are evolving how customers order, pay and enjoy their favorite foods through interactive technology, table service, customized sandwich options and a fresh restaurant design," McDonald's operator AMTCR, Inc., said in a press release to the Daily Miner.
Newly installed will be self-order kiosks allowing guests to look through the menu, customize their meals, and order and pay at a pace which suits them. Team members will be on hand working alongside customers to answer questions either about the menu or the process itself.
"McDonald's is continually evolving our menu, making positive changes to customer favorites and customized menu options including all-day breakfast and signature crafted recipes," the release said. "We continue to make menu improvements to give customers more of the food they love with ingredients they can feel good about."
That includes McNuggets that don't contain artificial preservatives, a revitalized salad blend and soft serve ice cream without artificial flavors, colors or preservatives.
McDonald's will celebrate the renovations at a grand reopening March 24 by offering multiple meal deals and discounts. The first 100 kids will receive a free Happy Meal with any purchase and the first 100 people in store will get a free Big Mac with any purchase, as will the first 100 cars through the drive thru. Raffles will be held for a TV and two children's bicycles. McDonald's T-shirts, hats, prizes and BOGO deals will be given away.
McDonald's looks to have the lobby open for business before the grand reopening, but an exact date is unknown.