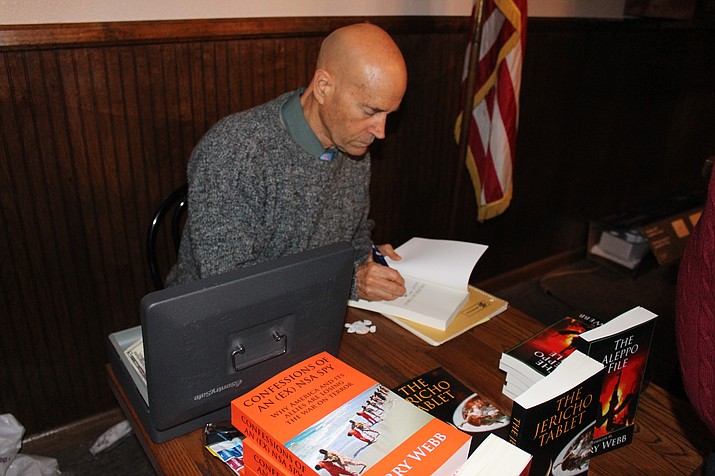 Photo by Hubble Ray Smith.
Originally Published: February 14, 2018 5:55 a.m.
KINGMAN – Preaching to the choir, author Barry Webb drew an "Amen" from Republican women with nearly every story of former President Barack Obama aiding and abetting the Brotherhood of Islam and manipulating political power in Middle East countries.
Webb spoke Tuesday at the Republican Women's Club of Kingman monthly meeting, telling about 50 members and guests what they wanted to hear about U.S. officials meddling in other countries' affairs.
"During the Obama Administration, they interfered with political powers in numerous countries," the former Arabic translator for the National Security Agency said.
"I think it's hypocritical of the media to make a big deal out of Russia interfering with our system, particularly to bring down (President Donald) Trump, when the Democratic administration has done the same thing."
Webb backed his case with a PowerPoint presentation on the founding of the Brotherhood of Islam in 1928, its mission to undermine the government from within North America and to fulfill Islamic prophecies through groups such as ISIS.
People need to have an understanding of all the interlocking issues so they can "connect the dots" to events such as the Boston Marathon bombing and shootings in San Bernardino, California; Orlando, Florida; and Fort Hood, Texas.
Obama aided former presidents in Nigeria, Egypt and Libya, Webb said.
The former U.S. president once spoke to a university of fundamentalists rather than the parliament in Egypt, and insisted that members of the Brotherhood of Islam be allowed to attend, which Webb called "two slaps in the face to the sitting government."
"It gets worse, much worse," Webb said, moving on to Iraq where Obama vetoed results of the 2010 election. "How much more interference can you do than veto an election?"
He took a shot at former U.S. Secretary of State and 2016 Democratic presidential candidate Hillary Clinton for blocking the asylum of Libya's Muammar Gaddafi and backing the Brotherhood of Islam, which resulted in the Benghazi attack.
"We must hold politicians to be accountable," Webb told the Republican women of Kingman. "No. 1, to declare the Brotherhood of Islam as a terrorist organization because it is. Other countries have."