Originally Published: February 14, 2018 6 a.m.
KINGMAN – From one squad that is making its first trip in over a decade to the other that advanced to the state tournament last year, February Frenzy is here for the Kingman and Kingman Academy high school boys basketball teams.
The Bulldogs travel to ninth-seeded Page to open the 3A State Championship, while the Tigers make the trek to No. 9-seed Thatcher for a play-in game in the 2A State Championship. Both games tip-off at 6:30 p.m.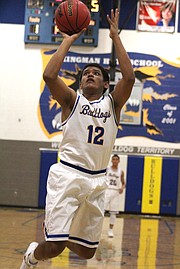 "Everything has come together really nicely this year," said Kingman head coach Nick Juby. "We're definitely excited to play (tonight) and you never know – it's playoff basketball."
The No. 24-seed Bulldogs (9-9, 5-5 3A West) definitely have a lot to be excited about as they're returning to the postseason for the first time in 13 years. The last time Kingman played in the state tournament was 2005 when it was in 5A. That year the No. 16-seed Bulldogs dropped a 74-73 loss to No. 17-seed Trevor Browne.
"It's one of those things that they'll never forget," Juby said. "They got to be the group that ended that streak. Thirteen years is a long time."
Senior Tobias Babgy shared the same feelings and said the Bulldogs are going to play their hearts out on the grandest stage of them all.
"We just have to keep our heads and our minds together," Bagby said. "We can't turn the ball over, play calm and play the game we're capable of playing."
On a side note, former Kingman resident Russ Skubal coaches the Sand Devils (12-6, 7-3 3A North) and talked about his reaction to playing the Bulldogs.
"This is exactly where I thought we would land in the bracket," Skubal said. "Then I immediately began watching film on them to prepare for the game."
Juby did the exact same thing. He had a feeling the Bulldogs would be playing Page.
Once it was official, he found film and began game planning. Only time will tell how Kingman fares tonight, but it will cherish the opportunity.
"It's really exciting because it's something that we had to earn," Juby said. "It wasn't something where, 'here you go, you can go to the playoffs now.' We had some ups and downs this year and we had to scratch and claw just to get .500."
2A State Tourney
At the beginning of the year, not many would have expected the Academy to be in this position.
The Tigers dropped five straight games to start the season, but then quickly turned it around to finish second in the 2A West Region.
"We're all fighters," said junior Tyler Chinyere. "We knew we were going to turn it around. We knew it was going to be a different season in the second half. The rough start didn't help us, but we knew we would come back."
Academy head coach William McDavid knew that the Tigers wouldn't be the same team in November as February.
He was right and now the No. 24-seeded Academy (9-9, 7-3 2A West) is ready to show how much they've improved.
"At the beginning of the year, we didn't have a lot of chemistry," McDavid said. "We had a lot of individual talent, but they didn't gel together really well. As we progressed, they've learned to trust each other like a family."
The Eagles (12-6, 9-3) won't be an easy test though, but McDavid has done his research and knows what the Tigers need to do to pull off the upset.
"We have two guards in Nate Perea and Stevie Wusstig that have proven to be excellent defenders," McDavid said. "The more we disrupt their guards, the less that their big (Cole Motes) will get the ball.
"If we keep him from getting the ball, he can't hurt us. It's not about double-teaming him when he gets it – when he gets it, he's going to get a good look no matter what we do. We just have to prevent him from getting it."
With that said, the Academy's x-factor could be the fact it has developed into a closely-knit squad that wants to win as one.
"Our team chemistry grew," Chinyere said. "We figured out what we needed to do. We all played roles and that made us grow even closer together as a team."
More like this story