Originally Published: February 14, 2018 6 a.m.
KINGMAN – Ruth and Gordon Tameny met at a Johnny Otis concert in Long Beach, California and have been married for 57 years. Their secret to being together for so long is being there for each other no matter what, never going to bed mad, and putting up with each other's bad habits.
Top five Valentine's Day gifts in Arizona
Love is in the air this week with Valentine's Day Wednesday. A survey done by Offer.com said that the average consumer will spend $55 on Valentine's Day. On average, males will spend $63 on Valentine's Day. That's $17 more than what females will spend.
In Arizona, shoppers go with a more traditional approach with Valentine's Day. The top five gifts Arizona shoppers pick are: roses, chocolates, a vase, flower bouquets, and chocolate diamond rings. Some of the least favorite gifts Arizona shoppers picked were alcohol and lingerie.
In other areas of the country, some of the top five gifts include: Oreos (North Dakota and Iowa), Yeti Coolers (Connecticut, North Carolina, South Carolina, Texas, and Virginia) and cutting boards (Wyoming).
When it comes to shopping for that special someone, 32 percent of shoppers wait until the week of Valentine's Day to start shopping. Whereas in Arizona, 16 percent wait until that week. According to the survey, 9 percent have admitted to waiting until the day of.
Information provided by Offer.com.
Following their first meeting at the Johnny Otis concert, Gordon asked her out on a date the following day. Coming from a Spanish home, boys weren't allowed in Ruth's house at her age. Arriving to pick her up, her father answered the door and welcomed Gordon inside. Gordon was 17 when they first met and Ruth was 16.
"I knew it the first time I saw her," Gordon said.
Gordon wanted to get married as soon as he got out of the Air Force. He proposed to Ruth when he came home during leave sometime after she graduated high school. Ruth told Gordon she would only get married if he found a job, so he did. Both families were happy about the couple tying the knot. Married at 20 years old, they started their new life together. They now have two kids, Dolores and Ed, and six grandchildren.
"I always felt it [he was the one]," Ruth said.
Ruth was a beautician and Gordon was in the Air Force for about three years. After leaving the Air Force he started working for an oil company. Soon after the children grew up and got married, they left California and moved to New Mexico and became pecan farmers.
Throughout their lifetime they never really experienced any hardships because they were able to work with the money Gordon brought home.
"It's harder now," Ruth said. "Both people have to work. Makes a big difference."
They moved to Kingman to be closer to their children who live in California. They first tried moving to Flagstaff, but Ruth still wanted to be closer. Laughlin was too hot and according to Gordon, he wasn't going to be grilling outside in 120-degree weather.
In their free time, they get to enjoy their time at the Kathryn Heidenreich Adult Center singing karaoke. The Tamenys don't travel much, but appreciate when their children come to visit them and enjoy the weekend together.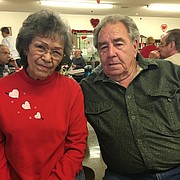 They have many memorable moments with each other like the birth of their children and when they first met. One of Gordon's favorite memories is when he came home for Ruth's high school graduation. Ruth's favorite memory is when their children decided to celebrate their 40th wedding anniversary to renew their vows.
After being married for so long, they still appreciate the little things about each other. Ruth appreciates that Gordon can quickly get over an argument, and Gordon admires how she isn't afraid to be herself.
"She doesn't have what I like most of all, her hair," Gordon said. "She had long hair and I love long hair."
"I'm too old for long hair," Ruth replied.
"You're never too old for long hair," Gordon said.
Ruth and Gordon will be celebrating their 58th anniversary Aug. 20. For couples getting married now, the Tameny's said to accept each other as you are.
"Enjoy life as much as you can," Ruth said.
More like this story