Originally Published: February 15, 2018 6 a.m.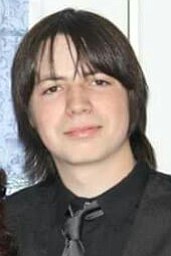 It's going on two years since 20-year-old Tyler Stice was reported missing, his car found abandoned off Hualapai Mountain Road with no trace of him, no phone call to his family and no evidence of foul play.
His disappearance remains a mystery, one of several missing person cases that have baffled detectives with Kingman Police Department.
No solid leads have popped up on Stice's whereabouts, said Det. Dennis Gilbert, who's been working the case from the start. Stice's prized Ford Mustang was examined by police evidence technicians, who found his DNA on a can of tea in the passenger side.
"Nothing new," Gilbert said Wednesday. "It's still an active case."
Stice is listed as missing with the FBI's National Crime Information Center, so if a police officer has any contact with him, it would be a "hit," Gilbert said. Otherwise, he's waiting for someone to call in with any leads.
Raenae Wann, volunteer case manager with Bring Our Missing Home, has been helping Stice's family distribute missing person flyers. She requested the Daily Miner share the flyer to "help bring Tyler home."
Stice, whose 22nd birthday was Feb. 8, was last seen leaving for work on June 21, 2016. His Ford Mustang was found at Deer Canyon recreational area in the Hualapai Mountains a few days later with some of his personal items missing, including his phone, computer, wallet and keys. Search dogs tracked his scent into the woods before they lost it.
"I think it's so important to keep word out there and pictures of him so people are aware that he is indeed still missing," said Kristin Snowden, who's been following the case. "Most people assume that no news is good news and that he has probably been found by now, (but) it's almost been two years."
Stice's family said he surely would have called if he was in trouble.
The worst part is "just not knowing," Stice's sister, Jessica Curtis, told the Daily Miner in 2016. "We don't know what we're going to do."
Stice wasn't a hiker or a hunter, although police learned that he bought a .22 caliber rifle at Walmart and ammunition from a gun store prior to going missing.
He was known as a loner and avid gamer. One interesting piece of information is that someone logged into Stice's Deviant Art account in December 2016, six months after he went missing.
According to his sister, Stice spent the day before his disappearance with his father, Robert Stice, a registered sex offender who has a criminal record for first-degree sexual assault and immoral and indecent acts with a minor.
"Happy 22nd birthday to an amazing baby brother and son. I hope your day is filled with laughter and joy wherever you are and just know we love you and will never give up looking for you," Curtis posted on Facebook on Feb. 8.
Other unsolved missing person cases in Kingman:
Kaleb Fouse, 17, a baseball player for Kingman High School, went missing on March 30, 2017.
Michelle Segura, 40, was reported missing by a relative on Nov. 2, 2009, last seen three weeks prior to her disappearance. Details are vague.
Stephanie Benton was last seen March 14, 1995, at Community Park in Bullhead City. She was 17 at the time. Police suspect foul play.
Paul Hawk was traveling through Kingman with his wife on Dec. 30, 1994, when he stopped to use the bathroom and never returned. He may have had dementia.
Hollis Sprague was reported missing on April 1, 1992, after wandering off from his home.
Susan Sweet-Mahler has been missing since May 29, 1991. She was the wife of a local businessman, and foul play is suspected.
Mark Weller was reported missing on Nov. 28, 1985. Police said he may have been involved with people in illegal drug activity.
Police are still investigating the unsolved murder of Arlica Dendy, 29, whose body was found Aug. 23, 2015, in the desert south of Radar Hill. Circumstances leading to her death are still unclear.
Another unsolved murder is that of Matthew Johnson, 22, who was killed in an "unwarranted" attack on Dec. 14, 2016, his family said.
Anyone with information about the missing persons or unsolved murders can call Kingman Police Department at 928-753-1911.
Editor's note: This story has been updated to note Gideon Pence, who was reported missing May 17, 2017, was located in November, according to KPD spokeswoman Jennifer Sochocki.
More like this story