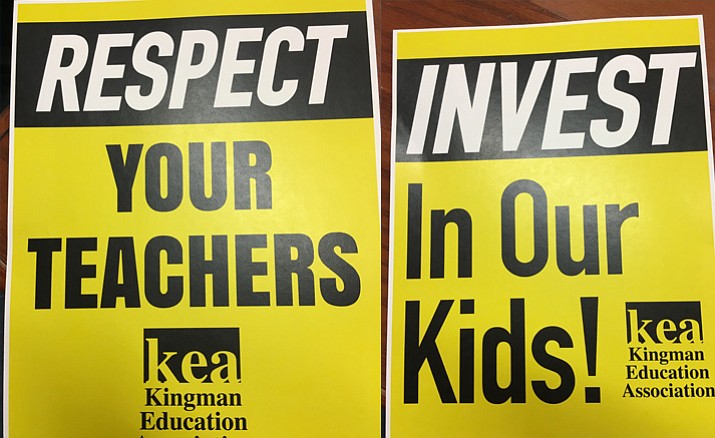 Photo by Vanessa Espinoza.

Originally Published: February 16, 2018 5:58 a.m.
KINGMAN – Local educators expressed their concerns about being underpaid and understaffed at Tuesday's Kingman Unified School District board meeting.
Members of Kingman Education Association, which is an affiliate of the Arizona Education Association and the National Education Association, were in attendance with signs saying, "Respect your teachers," and "Invest in our kids."
"The District continues to operate on a model of recruitment rather than retention," Brent Potter, KEA president said.
A KUSD counselor stated those in that particular field are master degree professionals and work four more weeks than teachers and are paid less.
At the educational forum on Feb. 8, KUSD Assistant Superintendent Jeri Wosley said they hoped to get $3 million from the state but only received $384,000.
"By offering contracts before the Legislature has adopted a state budget, the district is unable to bargain in good faith and instead has offered a minimal raise." Potter said. "This has resulted in low staff morale and high turnover of staff."
Other educators mentioned the shortage of qualified teachers. In the last year alone KUSD had 54 percent of their math teachers certified and only 77 percent to teach English.
Over the past few years educators have seen a one-percent increase in their checks, but also saw an increase in their health insurance payroll deduction.
According to the Arizona Department of Education website, in the 2016-2017 school year, KUSD teachers made an average salary of $36,145, now that average salary is down to $35,901. The average salary for teachers in Mohave County is $44,592 and $46,911 for the state of Arizona.
Teachers are seeing their paychecks get smaller each year, but that hasn't stopped them from renewing their contracts.
"We love the students and want to help them have a good future," the counselor said.
Another source of contention is the district's upcoming budget workshop.
Educators received an email from Superintendent Roger Jacks stating that the district administration will make recommendations to the board about the budget from 11 a.m. to 2 p.m. Feb. 20, which doesn't let educators attend because it's during school hours.
More like this story