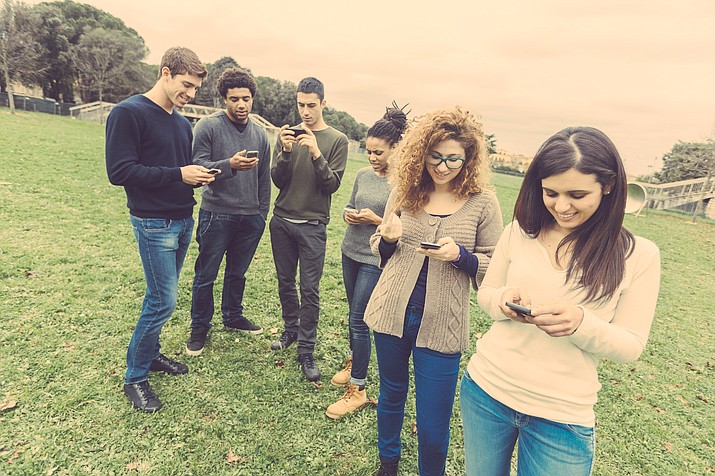 Originally Published: February 16, 2018 6 a.m.
KINGMAN – It doesn't take much effort to find someone with their nose in a phone, whether sitting at work, driving or taking a walk, people seem to be addicted to their technologies.
Technology addiction can afflict anyone, regardless of age. However, many of those who feel the need to constantly be "plugged-in," are adolescents and those of the younger generations. These individuals seem to be heavily influenced by their electronics and present an inability, or at the very least, a reluctance, to decrease their screen time.
But hope remains, as educators throughout Kingman are taking steps to engrain in their students the importance of unplugging, even if it's just during school hours or for certain times of the day. Tony Victory, principal at Kingman Academy of Learning Middle School, said that the middle school campus is "cell-free."
"We don't allow phones to be on during the day, from 7:45 a.m. to 3:50 p.m.," Victory said. "If teachers see it or hear it go off, it goes in a safe in the office and the parent comes and picks it up at the end of the day."
It took some time for students to grasp the new policy when it was implemented last year, but even then, Victory said phone confiscation was only "a little more common" than it is now. Victory estimated that in the last month only five or six phones were confiscated.
Phone and social media usage isn't a major problem during school hours, but Victory said that inappropriate postings outside of that window can affect students when they get back to school.
"I would say that the biggest thing we deal with here with cellphones is not stuff that happens at school during school hours, but when students post something on Snapchat after hours," he said. "Snapchat is by far the biggest problem we have, kids get in arguments and it comes back to school."
Rusty Moomey, principal at Kingman High School, said they began handling things a little differently after staff voted on ways to mitigate technologies' hold on students during the day.
Each teacher at the high school has a sheet of paper that is posted on the board, one side is green while the other is red. Red means no phones or electronics, while green opens up the possibility to use phones for listening to music.
Moomey explained that at KHS there are different classifications for how time is spent; I-do time, we-do time and you-do time. The first, I, refers to teachers, and are times in which instruction is being given and the red side is displayed. We-do time is when students and teachers are working together, and you-do time is representative of student-work time.
"Some teachers decide that during you-do time, you can listen to music and put on your headphones," Moomey said. "Some teachers say, 'Mine's going to stay red all the time.'"
The first time a student is caught with a phone out while red is displayed, it's taken away and given back at the end of class. The second time, the phone is confiscated and transported to the administration office, giving staff the opportunity to remind students of the school's policies when the phone is picked up at the end of the day. The third time, parents must collect the phone from the office, and the fourth time students have their phone privileges taken away. Moomey said he's never had to go to step four.
"Our kids really do abide by those rules," he said. "My first couple years of my time here kids were stealing others' cellphones or chargers, and we don't have that anymore. The policy keeps that away."
Staff requires use of the internet, so blocking cellphone signals isn't an option. Moomey called the school's policy a "fair option."
"We get what we need, and the kids get a little bit of responsibility in it as well," he said.
Adults and those with driver's licenses may need a reminder that an inability to cease cellphone use while behind the wheel could earn them a ticket in Kingman, prompting responsibility on their part as well. According to the Kingman Police Department's annual report, in 2016 there were 517 warnings and 14 citations issued for violations of the hands-free ordinance. Those numbers rose in 2017 to 949 warnings and 27 citations.