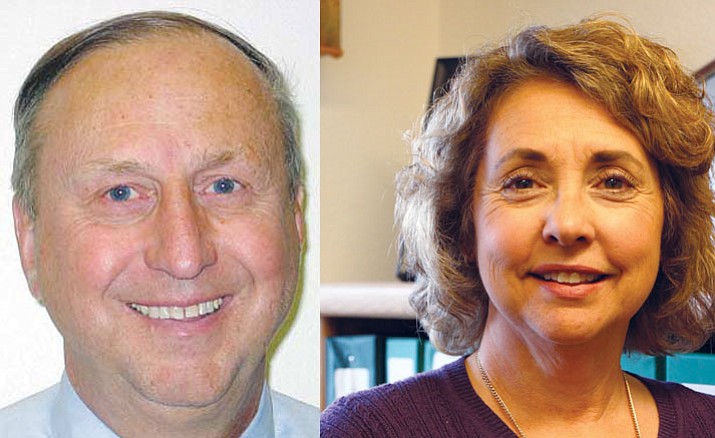 Originally Published: February 18, 2018 5:52 a.m.
KINGMAN – Superintendent Roger Jacks of Kingman Unified School District and Susan Chan, executive director of Kingman Academy of Learning, spoke to the Daily Miner about the security they have in place at their schools and what future security measures they will conduct in the wake of the massacre that took 17 lives in Florida.
KUSD has security personnel on all campuses, security cameras, and police going from one campus to another. Other measures Jacks has told his staff and faculty to take is to keep all doors locked, wear employee badges, and report any suspicious activity. He has asked his students to report any activity that is said on social media.
"We put all of our administration through safety training in the summer with police forces," Jacks said.
KAOL schools have fencing and all doors are locked except the front door, which leads to the office during school hours. At its high school, there are security cameras to monitor the back parking lot where students park their cars. Cameras allow administration to see if anyone is there who doesn't belong.
"All visitors, students, parents, must enter through the front," Chan said.
Both districts conduct fire drills once a month. KAOL schools practice their lock-down and active shooter drills a couple times of the year, according to Chan. At KUSD, lock-down drills are practiced every quarter, but some schools run through the procedure more. Jacks said, one thing they think about is the different scenarios that could possibly happen, such as right after a bell rings.
"(Especially when) there is student movement in-between classes and if the intruder were to be outside," Jacks said.
Based on the security measures schools have in place now, KAOL feels confident about their staff members and students staying alert on what is happening around each school.
"However, speaking honestly, most security measures don't stop intruders." Chan said. "If someone is determined to get into a school building and harm people inside, we are not going to be able to stop them."
KUSD schools are older and plan to work on the facilities to make them safer.
"I always worry about the security measures," Jacks said.
Both administrative heads plan to improve the security measures currently placed in their schools. Jacks said he hopes to invest more in security cameras and more police presence, if the budget allows it. Administrative staff at KAOL will meet with their school resource officer to search for more ideas to keep their schools safe.
More like this story