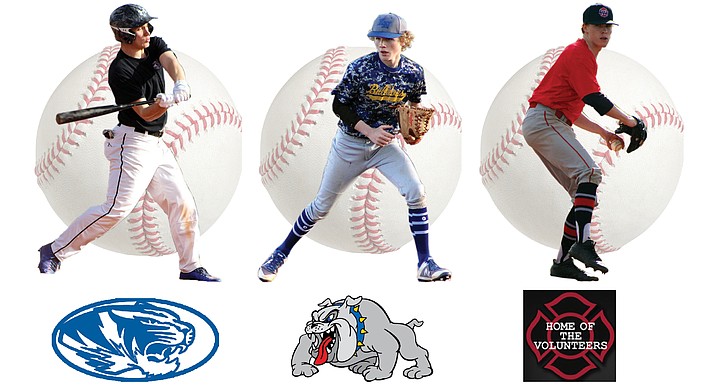 Originally Published: February 18, 2018 6 a.m.
KINGMAN – As the Lee Williams, Kingman and Kingman Academy high school baseball teams gear up for the start of the season, one similarity is apparent – experience. The Volunteers, Bulldogs and Tigers welcome back a number of players from a year ago and are poised for a run to the state tournament.
Volunteers
Lee Williams just missed out on the 4A State Championship last season and that is a big driving force as the Vols open the 2018 campaign Wednesday at Thunderbird High.
"We definitely have a lot of motivation," said Lee Williams head coach Patrick O'Boyle. "We had a great offseason – we've been working since November and we've been in the weight room since November. You can definitely tell with our approaches and just the strength of not only our at-bats, but in the field with our arms, our running and the base paths. The guys are hungry – we just have to stay levelheaded and keep grinding every day."
The Vols shouldn't have any issues with that as they return seven starters and also have a strong seven-man senior class. While not every one of those seniors start, O'Boyle knows they play a crucial role on the team.
"Everybody can do something we ask and they have to be ready to do something we ask – we're team first guys," he said. "Not everybody is going to be promised a spot. We have a lot of competition going on right now. So we have to be ready to work hard every single day."
That mentality is carried over to O'Boyle's season outlook as he plans to take it one game at a time.
"That's the way you have to approach it if you're going to be successful," he said. "If you look too far down the road, it bites you in the butt."
Lee Williams may not be looking ahead, but that doesn't mean there aren't season objectives. The Vols have the talent to make a run to the state tournament, but goal No. 1 is to win the 4A Grand Canyon Region.
In order to do that, Lee Williams needs to improve on last year's 5-7 mark in region play.
"If we throw strikes, play good defense, put the ball in play when we need to and move runners, we'll give ourselves a chance," O'Boyle said. "That's all we can ask for."
Bulldogs
The Kingman baseball team didn't have the success it wanted last season, but head coach Chad Baitinger still used it to improve the long-term goals of the program.
"We wanted to use last year as an experience for all the young kids to get their feet wet on varsity," Baitinger said. "We're ready to go this year. I'm looking forward to possibly making the playoffs."
The Bulldogs have the pieces to strive for that goal, especially considering they have a lot of young talent.
"I only have one senior," Baitinger said. "I have a lot of juniors and I'm bringing up freshmen this year too. We're going to be really, really tough this year and then next year is going to be awesome."
Kingman isn't looking ahead though, as it has focused a lot on the offseason. The Bulldogs have played games up until two weeks ago and Baitinger is pleased with what he's seen.
"I'm not nervous about the season at all," he said.
However, Kingman still has an area that could use some improvement. Baitinger is still working on his outfield, but he's not worried because the Bulldogs' pitching and infield are going to be really solid.
"With good pitching, you can force a lot of ground balls and have your infielders make up the difference," Baitinger said. "I really look to score a lot more runs this year. The kids were in the weight room and got stronger. That should show at the plate."
Kingman will have plenty of time to figure that out before 3A West Region play, where it finished with a mark of 4-6 last season.
That is far from Baitinger's mind though.
The Bulldogs open the season at 3:45 p.m. Wednesday against rival Kingman Academy at Southside Park.
Tigers
The Kingman Academy baseball team entered the final game of last season facing a winner-take-all situation. A victory over Parker and the Tigers would clinch the 2A West Region title and a guaranteed bid to the 2A State Tournament, but a setback would leave their fate in the hands of the AIA selection committee. Unfortunately, the Academy lost the game and just missed out on the state tournament.
"We're not going to take any game for granted this year," said Tigers head coach Bill McCord. "If we had won that game last year, we'd have been in the playoffs. It's changed a lot. We only lost three players from last year, so realistically we're going to be fairly strong."
The Academy returns a strong senior class, but six of its returners are basketball players. That hasn't bode well for McCord's ability to get his team ready for its home opener Wednesday against rival Kingman High.
"I just have to get these basketball players in shape," McCord said. "Six of them are my starters and they showed up (Friday) because of basketball. I have two days to get them ready."
That doesn't give the Tigers very long to transition into baseball shape, but McCord plans to work with them Monday and Tuesday.
"I'm going to have them work out on the holiday because they need it," he said. "You don't just pick up a bat and go out there and think you're swing at a pitch."
That rust is something that McCord hopes wears off early in the season. Academy does get the benefit of two early tournaments – Feb. 23 in Bagdad and March 1 at Kingman High – to help speed up that process.
But first, the Tigers are set to battle the Bulldogs.
"We like playing our teams in town," McCord said. "We all know each other and it's a good time. But when we get on field, it's competitive – we want to win. We don't want anything to get by us this year. Standings are everything – this is our last year in 2A. We need to make a show of it."
Academy will look to continue its success in the 2A West Region after finishing 8-2 last year. The Tigers have six strong returning pitchers to help that cause and McCord mentioned he probably has a 12-man pitching staff.
"I think we have a team to make a run – I do," he said. "We've played Parker in the offseason and we're going to be OK there. They're going to be our strongest competitor in our region."
More like this story