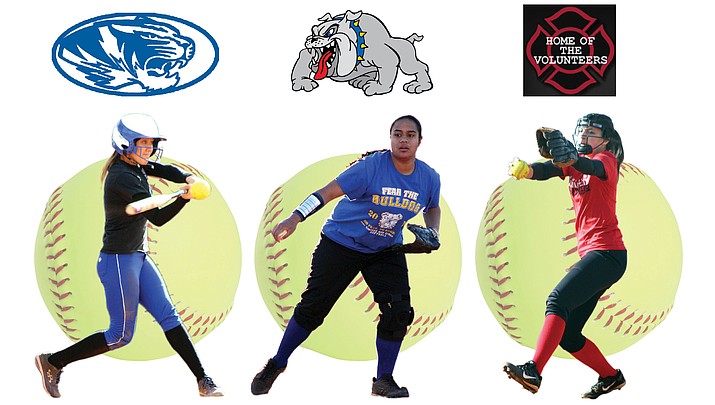 Originally Published: February 18, 2018 5:59 a.m.
KINGMAN – It's state tournament or bust this season for the Lee Williams, Kingman and Kingman Academy high school softball teams. While the Lady Tigers are the lone squad to make the postseason last year, the Lady Volunteers and Lady Bulldogs also hope to join them.
Lady Volunteers
When a new coach takes over a team, it usually takes some time for everyone to get familiar.
That isn't the case for the Lee Williams softball team, as first-year head coach Melody Van Zandt is already on the same page with the Lady Vols.
"We've already said it – we're going to state," Van Zandt said. "I told the girls, 'My goal is state.' They said they were with me. So that's what we are going to do."
Lee Williams has the talent to accomplish its objective – highlighted by eight upperclassmen. More importantly, the Lady Vols have six returning seniors that will be heavily depended on by their teammates.
"It's nice to have the seniors because I use them as mentors," Van Zandt said. "I tell them, 'You are my seniors, you need to make sure you understand and bring this team together.' That's what we've been doing – we've been working a lot on teamwork."
That mentality is producing positive results and Van Zandt said the girls have been really receptive to everything. Obviously that helps in Van Zandt's transition, but she's no stranger to softball.
The Kingman High School graduate played on the varsity squad for four years and went on to play in college.
"It's weird not coaching for Kingman, but at the same time, taking on a different team is kind of nice," Van Zandt said. "It's nice to be able to go against my alma mater."
That is the lone team she is familiar with though, as she is still adjusting to her first head coaching job. She'll have plenty of time to prepare for the 4A Grand Canyon Region and help the Lady Vols bounce back from a 0-12 mark in region play.
"We're trying to build and make sure we're all together," Van Zandt said. "Everyone has been on the same page since day one."
Lady Bulldogs
The Kingman softball team's goal this season is simple – make the state tournament. Every day since tryouts, the Lady Bulldogs have talked about living up to those expectations.
"In the past, it was about improving," said Kingman head coach Craig Lee. "Starting this year, it's not about improving anymore. It's about trying to make the playoffs. We're excited for the season."
The Lady Bulldogs will lean on their experience, which includes seven returners. While only one is a senior, Lee is still optimistic for the program this year and beyond.
"I love how we're set up because our junior class has a lot of experience," Lee said. "I think five of the juniors have been starting since they were freshmen. The experience is there."
There will also be a few new faces, including freshman Lilianna Valdivia to add depth at the pitcher position with Payton Chamberlain.
As far as a team leader goes, Lee is depending on Kearra Tauta to step up for Kingman.
"She is our vocal leader and she gets all the kids going," Lee said.
But only time will tell how the Lady Bulldogs fare in 2018 after finishing 2-6 in the 3A West Region last season. That is in the rearview mirror though, as Lee knows the team has a shot.
"It's a realistic goal," he said of making the playoffs. "It's going to be the first half of the season because we do have two catchers that are young. They're experienced, so once they get comfortable, it's going to help. Once we get Payton going pitching-wise and back into her rhythm, our second half should be really good. I'm just hoping our first half is as good as our second."
Lady Tigers
The Kingman Academy softball team knows time is running out.
Not only is this the last year with a talented group of seniors, but it's also the Lady Tigers' last season in the 2A West Region.
"We've been together for about five years, so we're looking for good things," said Academy head coach Tim Pena. "These girls definitely think they can get to the championship. So we're just going to ride the ship as long as we can, work hard and see where the cards go."
The Lady Tigers definitely have a stacked deck in their favor with seven returners that includes six seniors. Academy also has all of its starters back from a season ago – with the exception of one in Dasani Cave.
"She ran track last year, but she played her freshman year," Pena said. "So it's not like I lost a whole lot. She has great speed, she's a great ball player."
Cave will no doubt boost the Academy's hopes for a state championship after it went 14-4, 10-0 in the 2A West Region last year. But Pena is most excited about having two talented pitchers to lead the Lady Tigers.
"The biggest strength is our pitchers," Pena said of Jessica Plew and Maryssa Edwards. "Both of them have already been recruited and they're going to college. They know the game and they've been in the circle for four years. I look forward to a lot of stuff they're doing. I look to them for leadership as well as our middle infield. We'll be good."
Academy knows it will have the target on its back from day one of region play. That doesn't worry the Lady Tigers, but they know they can't take any opponent lightly.
"As it goes, you have to step on the field because anyone can get beat any day," Pena said. "You have to bring your 'A' game every day. Trivium Prep is definitely going to be a big spot on our schedule. They were all freshmen last year and they have great pitching. We just have to go do our thing and worry about what we do and then the rest will fall in place."
More like this story