Originally Published: February 18, 2018 6 a.m.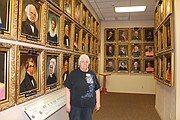 Other than mattress sales and special deals on new cars, President's Day is probably one of the least celebrated U.S. holidays of the year.
Nobody gets presents, cards, flowers or candy. Dinner is the usual fare.
It started as George Washington's birthday (Feb. 22), and now extends to recognition of all 45 U.S. presidents.
Kids are out of school Monday, and government workers have the day off, but that's no reason to laze around the house.
Here are three fun and educational ways to celebrate President's Day:
Visit a museum
Take the kids to the Mohave Museum of History and Arts, 400 W. Beale St., which boasts one of only three collections of presidential portraits by renowned painter Lawrence Williams.
Another collection is displayed at the Library of Congress in Washington, D.C., and the third is said to be in the basement of a state legislator, said Vicky Markee, museum office manager and tour guide.
What's unique about the museum's presidential gallery is that it includes all the presidents' First Ladies, which in some cases isn't their wife, but a close family member, Markee noted. James Buchanan, for example, never married, so his niece stepped in for the portrait.
"We have students come in all the time, when the schools try to keep the kids busy," Markee said. "It's right here at the door and a lot of people make comments. They've seen the presidents and haven't seen the wives."
Williams, a highly regarded artist who sat with several presidents to paint their portraits, was commissioned by Arizona State University in the 1970s to take original portraits from the Library of Congress and copy them, Markee said. Each of the 16-inch-by-20-inch portraits is incredibly true to life in detail.
There's a binder of information on the presidents and First Ladies, along with historical artifacts and a display of presidential ornaments that were hung on the White House Christmas tree.
On the way home, ask the kids to share some of the facts they learned about past presidents.
Watch a movie
Whether real or fictional, narrative or documentary, there are a number of great films that focus on the president.
"All the President's Men" isn't so much about President Richard Nixon bugging the Democratic headquarters at Watergate, but the Washington Post journalists who bring him down. It's an important film in which the reporters meet with a mysterious and anonymous informant who gives them the scoop, eventually leading to Nixon's impeachment.
"Lincoln" is a 2012 epic historical drama film directed and produced by Steven Spielberg and starring Daniel Day-Lewis as Abraham Lincoln. As the Civil War rages on, the film gives insight into the Lincoln's internal struggle with the continuing carnage on the battlefield as he carries on his own fight with cabinet members on his decision to emancipate the slaves.
"JFK" examines the events leading up to the 1963 assassination of John F. Kennedy in Dallas and alleged cover-up as investigated by former New Orleans district attorney Jim Garrison, played by Kevin Costner. This 1991 conspiracy thriller is directed by Oliver Stone and won two Academy Awards.
Costume party
Throw a presidential costume party and have the kids dress up as their favorite president and other historical figures.
Ask them to tell other kids at the party about his or her character and how they came up with their costume ideas.
There are plenty of disguise kits that can turn your child into George Washington, Abraham Lincoln and other popular presidents. They can get silly with a character mask of Bill Clinton, Barack Obama or Donald Trump, worn with a plain suit to make a funny impression.
Some costumes are available at big box stores, or try a costume party store for accessories such as colonial tricorne hats, square-rim glasses, wigs and beards.
Keep the costumes around for Halloween, school plays, historical re-enactments and parades.
State Point Media contributed to this report.
More like this story