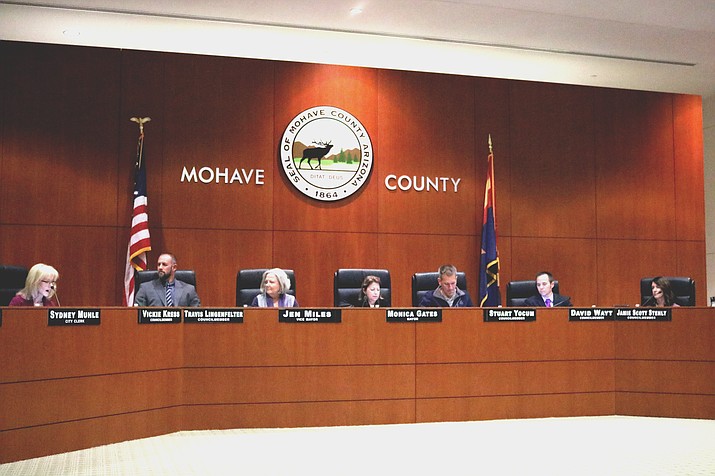 Originally Published: February 20, 2018 6 a.m.
Groundwater modeling: During a work session, Council will hear a presentation on a potential intergovernmental agreement with Mohave County for a U.S. Geological Survey that would evaluate potential impacts of withdrawals on aquifer conditions. Kingman's water supply is primarily taken from the Hualapai Valley Basin, from which agricultural withdrawals increased significantly from 2014 to 2015. The development has raised concerns about water availability from water managers in Mohave County. The project is expected to cost $213,605, Kingman would pay half, $106,802.50, and would provide the county with well data and effluent data from the wastewater treatment facility. The project would improve groundwater monitoring capabilities. No action will be taken.
Water Recharge and Sustainability Commission: Council will discuss in a work session Councilman Travis Lingenfelter's suggestion that Council should create a commission for water recharge and sustainability. It would provide policy makers with information, data, resources, recommendations and tools to address water-associated challenges in Kingman. The commission would also identify opportunities to advance sustainable water conservation and recharge solutions. No action will be taken.
Arnold Plaza: Council will discuss in a work session a request to waive the fees for upcoming Arnold Plaza renovations. The Jerry Ambrose Veterans Council acquired the plaza from Mohave County in January for $58,500. Mohave County agreed to sell the plaza in 2016, but asbestos abatement and lead-based paint removal was required. No action will be taken.
Stifel: Council will consider authorizing the city manager to sign an engagement letter with Stifel, Nicolaus & Company for financing considerations regarding revenue bonds or special assessment revenue bonds for the I-11 East Kingman Connection Project. The letter is preliminary, non-binding and could be terminated by Kingman at any time.
Transfer request: The city attorney's budget allows $100,000 for legal and professional services. This amount has already been spent primarily on legal expenses in regards to KAA litigation. Council will consider a $150,000 contingency transfer from the general fund to the attorney's legal services budget.
Fees: Council will consider action on an ordinance that would adopt Interim City Manager Jim Bacon's recommendations for fee increases and the establishment of new fees. Included are license fees, fire service fees, engineering fees, planning and zoning fees, organized league fees, aquatics fees and golf course fees. The funds would add approximately $105,000 to the general fund, $43,000 to the water fund, $7,300 to the wastewater fund and $4,700 to the KART fund. Council will also look to adopt a notice of intent to increase or establish 12 additional fees, which were incorrectly labeled on the Nov. 30 notice of intent and could not be included in the previously mentioned ordinance.
Sewer: Council may vote to establish a Sewer Connection Assistance Program, which would begin April 1. It would put $50,000 aside in a loan program for residential property owners who are required to connect to the sewer system because of a failing septic system or desire to connect to Kingman's system.
KAA litigation: In executive session Council will discuss the KAA litigation, and will receive an update from the city attorney on the Feb. 16 status hearing.
Council will meet at 5:30 p.m. at the Mohave County Administration Building, 700 W. Beale St.
More like this story