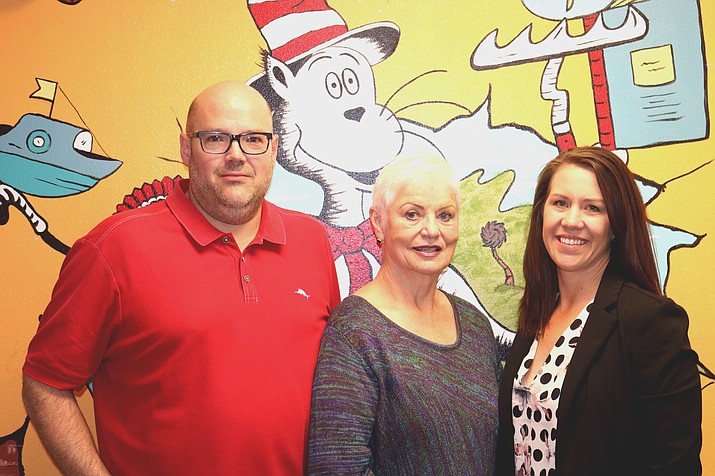 Originally Published: February 20, 2018 6 a.m.
KINGMAN – The name, among other minor details, may have changed for the annual dinner that promotes scholarships for local students, but this year's Kiwanis scholarship dinner will do no less in offering a helping hand to those wanting to take the next step in their educations.
Kerry Raymond has been running the dinner for nearly a decade. In her time at the helm the dinner has grown, each year offering more scholarships and getting more students into colleges and trade schools than the year before.

"There's great pride in this dinner because you see the product," Raymond said of the dinner and the scholarships it raises.
Funds raised at the dinner have always gone to help the community, though they haven't always gone to scholarships. Raymond said the $4,000 raised during the first year went to needed cooling improvements at the Kingman Historic Powerhouse.
Driving home from a chamber of commerce meeting one night not long after the first dinner, Raymond pondered others ways in which money that was raised could benefit the community. After speaking with representatives from Mohave Community College, the consensus was that students should be the beneficiaries.
Each year the program has reached new heights, going from under $5,000 in its first years to $9,000 and $12,000. After one year of particularly hard work, Raymond said the dinner managed to raise $20,000 in scholarships. Each year more people donate and more students are able to continue their education at the next level.
"None of it can ever go to overhead. We have strict rules of ethics on this," Raymond said. "If you're going to give me a $1,000 scholarship for my dinner, you're going to get a kid to college."
Last year's dinner raised $30,000 and provided 30 scholarships, including 15 that were sponsored by local businesses. Even though Raymond has stepped aside and handed the torch to Kingman Powerhouse Kiwanis, event chair Bill Ward said he aims to keep with the spirit of hard work and dedication exhibited by Raymond in all her years of service.
"It's all about the kids," Ward said.
This year Kiwanis has set a goal to raise $40,000, and to use business relationships through Kiwanis to get even more local businesses involved. Raymond said she could think of no better organization to take over the dinner.
"They have 20 professional people and they do all the youth things in the community," she said.
Kiwanis representative Chanel Turner is excited about the opportunity.
"It's great. It's exactly in line with what we do," Turner said. "For years we've been doing scholarship programs in the spring and this was just a perfect transition."
When the money is raised, checks are written directly to the college or trade school of the recipients choice, ensuring the funds are used for furthering education.
"It has a huge impact on the community," Ward noted.
This year tickets will go on sale March 15 and will be $20 apiece, $15 cheaper than in the past. The 2018 installment will fall on May 5 and will be held at the Club for Youth in Kingman, 301 N. First St. For more information, email Ward at bill@theclubforyouth.org.
More like this story