Originally Published: February 21, 2018 6 a.m.
KINGMAN – Linda McQuality can hardly contain her excitement.
The four-year Kingman resident has waited for this day since her niece, Brigette Lacquette, made Canada's women's hockey team.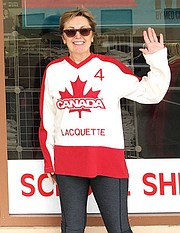 The 25-year-old Mallard, Manitoba native and the rest of her teammates will battle the United States at 9 p.m. today for gold in the 2018 Pyeongchang Winter Olympics.
"I will be proud of the Canadians if they win gold, and having my niece play on the team and even getting as far as she has today, is a very humbling experience for the whole family," McQuality said. "I am elated and I'm hoping to be able to see Brigette with a gold medal."
Lacquette has no doubt looked forward to this day and it's even more special considering she's the first indigenous woman on Canada's women's national team.
It all started when four-year-old Lacquette began playing street hockey with her older cousins, and now she's on the grandest stage of them all with millions watching at home.
That fact means everything to McQuality.
"It's very cool to live in a small community where I can tell people that she is related," McQuality said.
"Being an owner of a small business gives me the opportunity to talk to people and let them know that not only am I a Canadian cheering for the Canadians at the Olympics, but my niece is making history this year. I'm so very proud of her and her parents – they've raised an awesome girl."
Her parents Anita and Terance will be in the stands tonight cheering on their daughter in Pyeongchang. A win will obviously be special, but there's a deeper meaning to bringing home the gold.
"Brigette being part of a team and making history for the indigenous women of Canada, and being recognized for her skills and abilities is the most exciting part for me," McQuality said. "I'm so very happy that she gets to be part of this experience."
Lacquette has yet to make a trip to Kingman, but that is something McQuality wants to see change in the near future.
"My honest hope is that she will come for a visit and show my husband a gold medal," McQuality said. "Our door is always open for her."
More like this story