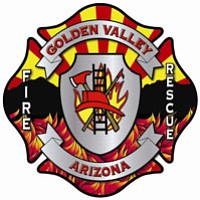 Originally Published: February 21, 2018 5:55 a.m.
GOLDEN VALLEY – Golden Valley Fire District received a report at 9:53 a.m. Sunday about a small explosion at Castle Rock Bar and Grill, 3743 U.S. Highway 93.
An eyewitness at the scene said a cook was attempting to light a pilot light of a pizza oven and then there was a small explosion.
A woman, 42, and a man, 52, were transported to Kingman Regional Medical Center, Capt. David Martin of the Golden Valley Fire District said.