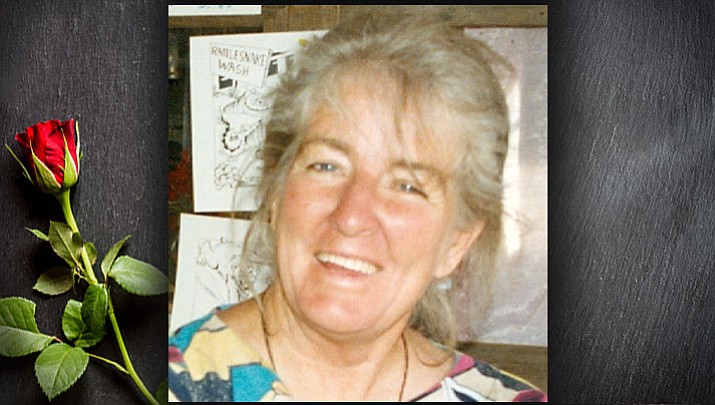 Originally Published: February 22, 2018 5:58 a.m.
Beloved long time resident and well known local artist Sue Wright passed away peacefully in her home in the early hours of Dec. 12, 2017 at the age of 80 years old.
Sue and her husband Dan moved to Chloride 28 years ago from Mohave Valley, Arizona with a short time in Golden Valley.
Sue started her passion and career as an artist at an early age. She was instrumental in her artwork depicting characterizations of frogs for the Calaveras County World Famous Frog Jumping contest back in the 1960s, which still goes on today near the town of Murphy's California where she lived for several years.

Sue provided characterizations for many newspaper publications and as well as commercial art. She was very well known for her witty political cartoons which ran in the Kingman Daily Miner Newspaper and the Tri-State Newspaper.

Sue was the owner and Editor of the Chloride Chronicle newspaper from 2000 till 2007 serving Chloride, Dolan Springs, White Hills, Meadview and Kingman. Sue offered a unique slant in creating custom artwork for her advertisers.
Moving to Chloride gave her the opportunity to continue her passion by capturing the character of many of the local residents living in Chloride as well as the wildlife in her desert tapestry. She called them her Critters. Sue painted portraits as well and created her own paint using the palate of the earth with its many colors of dirt and mud to paint amazing portraits.

If you visit Chloride or Grasshopper Junction, you will still find murals painted by Sue adding to the color and charm of her little town.
Sue Wright was preceded in death by her parents and brother.
Sue Wright was born as Susie Murray on Jan. 21, 1937 in California. She is survived by her loving husband Robert Daniel Wright. Two daughters, Vickie Pitcock and Susan Stafford both of Chloride, Arizona; two grandchildren, Cydni Pitcock and Jesse Pitcock also of Chloride, Arizona; and five great-grandchildren, Tyler, Emilee, Ariel, Jazmin and Juliana.
No services will be held by her own request. The family only asks that you remember Sue for her talent and love for animals and that you always love animals for the gift they are in our lives.
Next time you are in Chloride, look up at the clouds and if you see a cloud that looks like someone you know or a critter, Sue Wright painted that cloud just for you.
More like this story