Originally Published: February 23, 2018 6 a.m.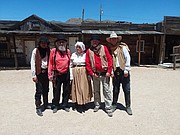 KINGMAN – A local reenactment group has the ability to take their audience back to the Old West. The Kingman Outlaws devote some of their spare time performing fake gun fights imitating what people would see in the 1800s.
Frank Chasteen, founder of the Kingman Outlaws, started his interest in re-enacting gunfights because of his father. His father was an Oatman gunfighter, and Chasteen has been doing it since he was 6 years old. Before the Kingman Outlaws, he was previously in three other groups.
"I'm continuing on with this group till I retire," Chasteen said.
The Kingman Outlaws is composed of six members and most of them have been friends for over 25 years and went to high school together, Chasteen said. Each group member has their own alter-ego personalities, like Blue Boy Jr.
The Outlaws rehearse their old west skits about three times a week or as many times they can get together to perfect their routines. They perform a total of four skits, each 5 to 10 minutes long. The Kingman Outlaws have received positive feedback from the community.
"We love to entertain and enjoy performing for the community," Chasteen said, "and will continue to perform as long as we can."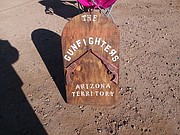 They have put on shows in Chloride, at the Mohave County Fair in 2015, Old Miners Parade, the Andy Devine Days parade, at the Fraternal Order of Eagles Lodge, and the Veterans parade.
The group is always looking for new members. If anyone is interested they can contact Chasteen through The Kingman Outlaws Facebook page. They are also available for special occasions, such as weddings and birthday parties.
The Kingman Outlaws will be performing at noon on Saturday at the Route 66 Swap Meet, 4120 Thompson Ave. They are scheduled to perform at the Mohave County fair later this year.
More like this story