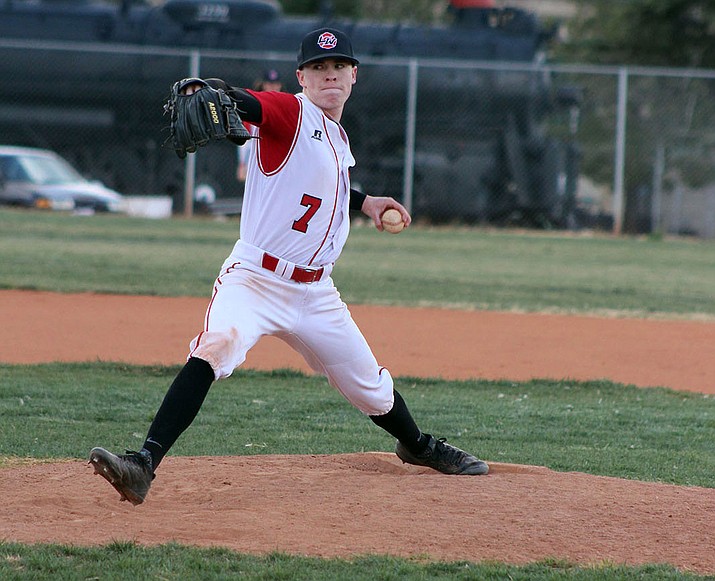 Photo by Beau Bearden.
Originally Published: February 24, 2018 1:59 p.m.
KINGMAN – The old saying goes, "When it rains, it pours," and that was exactly the case for the Lee Williams High School baseball team Friday against rival Kingman High.
The Volunteers quickly turned a pitcher's duel at Dick Grounds Field into a blowout with 10 runs in the third to pick up a 16-1 victory in five innings due to the run rule.
Photo Gallery
Baseball: Kingman at Lee Williams - Feb. 23, 2018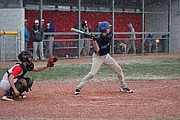 The Lee Williams High School baseball team defeated rival Kingman High by a score of 16-1 Friday in five innings. Photos by Beau Bearden.
"I'd like to see us adjust earlier in the game, but we did do a good job in the third inning of jumping on some miscues by them," said Lee Williams head coach Patrick O'Boyle. "Then we finally put some hard-hit balls in play and put a little bit of pressure on them. One hit kind of let to another – getting that confidence going. We just did a good job overall."
The Vols found their spark right away in the third inning, as the Bulldogs committed an infield error to allow Robert Paulson to reach base. Paulson would later score on a passed ball and then another infield miscue brought home Chad Moore to give Lee Williams a 2-1 advantage. The avalanche of runs wasn't done yet.
In the third inning alone, the Vols sent 13 batters to the plate – racking up eight hits and seven RBIs.
"We had the momentum on our side and then all of sudden (we didn't)," said Kingman head coach Chad Baitinger. "We can't let that lapse happen on defense because then we're out there for 30-40 minutes freezing our butts off."
Sophomore Addis Guzman definitely played a role in extending the inning with a lengthy at-bat that resulted in a two-run double that he stretched into a triple.
"There were good pitches that I could have hit, but I didn't," Guzman said. "I just stayed in there and kept battling with the help of my coaches. I finally got one and I drove it."
The hit pushed the Vols' lead to 5-1 and they never looked back. Guzman would finish 2-for-4 at the plate with a team-high four RBIs. Paul Giglio added three hits and two RBIs, while Matt Bathauer finished with two base knocks and two RBIs.
"We hit the ball well," said Lee Williams pitcher Carter Rhoades. "We put the ball in play, we scored runs when we needed to. They backed me up and we won the game."
Rhoades was just as instrumental – striking out seven and yielding no earned runs on three hits in five innings of work. Rhoades did hit leadoff hitter Mason Telford in the first inning, which led to Kingman's lone run as an overthrow to second allowed him to score.
While that wasn't the way he wanted to begin the game, Rhoades quickly recovered and held the Bulldogs in check the rest of the way.
"Starting off the game – it's my senior year and my first game to pitch – I came out a little amped up," Rhoades said. "I was really excited. By the second inning, I calmed down and I was good from there. I trust my mechanics and I know that I can go out there and do my job."
Kingman's starter Luke Ness also looked confident early in the game as he struck out two Vols and allowed just one hit in two innings of work.
"Credit to their pitcher – he kept us off balance for the first two innings," O'Boyle said. "We finally were able to get to him and get him out of the game."
Lee Williams' bats combined with Kingman's defensive miscues did chase Ness from the mound and Telford entered as a reliever with his team trailing 8-1 with one out in the bottom of the third.
Lee Williams would add two more in the frame and cruise to victory despite battling some snow flurries late in the game.
"I'll always remember that – playing in the snow," Rhoades said. "It was kind of hard to see, but I just made it fun."
The Vols (1-1), which opened the season last Wednesday with a 6-4 loss at Thunderbird, are back in action Monday with a 4 p.m. contest at Lake Havasu. Kingman (1-1) hosted Williams Saturday afternoon and then travels to Mohave Accelerated Monday for a 3:30 p.m. contest.
The Bulldogs will look to get back in the win column and Baitinger knows his squad can make some noise this season.
"This is program is young enough where we can change our reputation from a non-winning team to a winning team," he said. "These guys need to believe in themselves, especially against a better team. They need to step up and play."