Originally Published: February 26, 2018 5:59 a.m.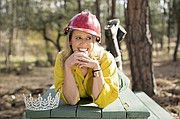 PRESCOTT VALLEY – Chainsaws and evening gowns: They might seem an unlikely match for most people, but not for local wildland firefighter Cheyenne Warner.
Warner, the current Ms. Arizona, made a splash online recently when she posted a photo of herself in the forest, decked out in an evening gown and crown, holding a chainsaw.
All of a sudden, the contestant for Ms. America was getting media calls from around the state. "It was the day I blew up Facebook," Warner said laughing.
The photo encapsulates many of her causes and interests – the outdoors and firefighting, certainly, but also her love of mentoring young women to reach their dreams even if their chosen field is dominated by men.
For Warner, her entry in the Ms. America pageant was also an opportunity to indulge in her softer side.
"Work is work, and it's no makeup and not an easy job," she said. "I am a female wildland firefighter; the pageant helps me hold onto my feminine side."
The chainsaw/evening gown photo effectively captures both sides.
"It's my power pose," Warner said.
Natural interest in firefighting
A self-described "daddy's girl" while growing up in small-town Washington, Warner says she was "always outside." She lists fishing, hunting, hiking, and mountain biking among her interests.
She got her first job with a federal land management agency as a teenager.
"I started as a seasonal employee when I graduated from high school," said Warner, 39. "It helped me pay for college."
Later, while Warner was teaching high school students American Sign Language (her college major) during the school year, she was working summers on a timber crew.
That led naturally to an interest in fighting wildfires.
"One day we hiked into a fire while I was on a timber crew," she said. The natural elements and the science of firefighting captivated Warner, and she soon had her first job on a federal wildland crew.
"The 2007 fire season was a big season up there in Idaho," said Warner, who was living in Council, Idaho, near the Payette National Forest at the time. Lightning caused a series of fires, and she worked on a crew digging fire lines and moving hoses.
Within about a year, Warner became certified to use a chainsaw, and she helped to fight numerous wildfires in the western states.
Over the years, she gravitated to public-information-officer work. Currently, Warner is certified to serve as an incident commander of a Type 5 fire, the smallest wildland-fire category. She is also a squad boss, and can lead as many as five people.
Up-to-date on the required physical-fitness tests, Warner also participates in initial attacks on wildfires.
Pageant past
About a year ago, Warner transferred to a new job in wildland firefighting in Prescott.
As a newcomer to the area, she was looking for a way to connect with the community, and she remembered the positive experience she had while competing in the Mrs. Idaho pageant in 2014, as well as a 1995 pageant while she was in high school in Washington.
"I had some funny stories and good memories about it, and I learned some things about myself," Warner said of those earlier pageants. "I was very much out of my comfort zone, and I think it made me a better leader."
She researched available pageants and found the Ms. America contest, which she describes as a crown with a purpose. The pageant accepts contestants who are older than 26, and are married or single, and emphasizes fundraising and volunteerism.
After applying and doing a phone interview, Warner, who is now single, was awarded a crown and sash as Ms. Arizona.
That set off a series of activities that Warner says have helped her accomplish her wish to get out into the community more. She chose "Find your power pose" as her slogan, and works in support of mentorship programs, with an emphasis on women in the workforce.
Currently, she is mentoring an area high school girl who aspires to be wildland firefighter, and also has regularly mentored rookies at her job.
Warner also chose to participate in the Ms. America pageant's "People's Choice" competition, which allows her to raise money for her chosen cause – the Wildland Firefighter Foundation based in Boise, Idaho.
Online voting is open for the contest until March 4, at www.msamericapageant.com. Each vote costs $1, and 50 percent of the money raised will go to the winning contestant. If she wins, Warner has committed to giving all of the money to the Wildland Firefighters Foundation.
The Ms. America pageant is scheduled for March 10 in Long Beach, California, on the Queen Mary ship. Warner will spend a week there, participating in pageant events leading up to the livestreamed main event.
She said the contest includes evening gowns, judge's interviews, onstage questions, and a sportswear competition. She plans to model sportswear from her latest pursuit, mixed martial arts, which she practices at Average Joe's Gym in Prescott.
"In my mind, for me, winning the crown is not the priority," Warner said. Rather, she said, "It's a way to hopefully take the Wildland Firefighters Foundation a check, and help with mentoring pro
More like this story