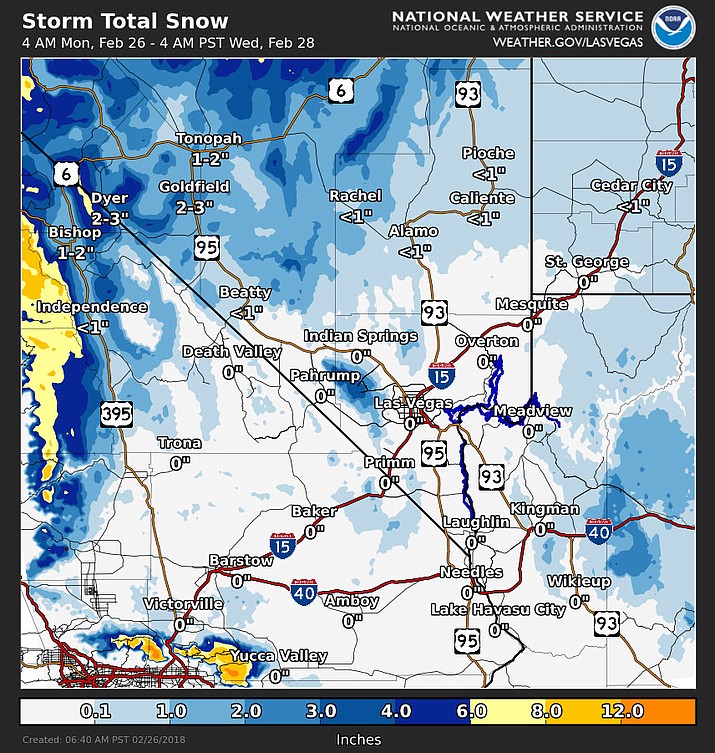 Originally Published: February 26, 2018 6:20 p.m.
KINGMAN – Expect weather to be "unsettled" this week, with another cold front bringing the possibility of more snow to the area today, especially heading east toward Flagstaff.
"Confidence continues to increase with the associated impacts with Tuesday's cold storm," National Weather Service said Monday in an email alert.
The forecast for northwest Arizona calls for numerous rain and snow showers scattered around the area, with a slight change of a thunderstorm Tuesday afternoon.
Snow levels in Mohave County will mainly be closer to 4,000 feet, though some snow could come at 2,500 to 3,000 feet.
Snow amounts could range from a trace to 2 inches on Interstate 40 east of Kingman, with up to 3 inches in the mountains.
"Even a little accumulation of new snow along Interstate 15 on Mountain Pass in San Bernardino County and Interstate 40 east of Kingman could lead to an uptick in incidents," NWS said.
Arizona Department of Transportation issued snow warnings for areas around Ash Fork and Flagstaff.
Confidence remains high for hazardous crosswinds, especially for high-profile vehicles.
The high today is expected to be 46, with an overnight low of 27. Low temperatures should climb back above freezing later in the week.
More like this story