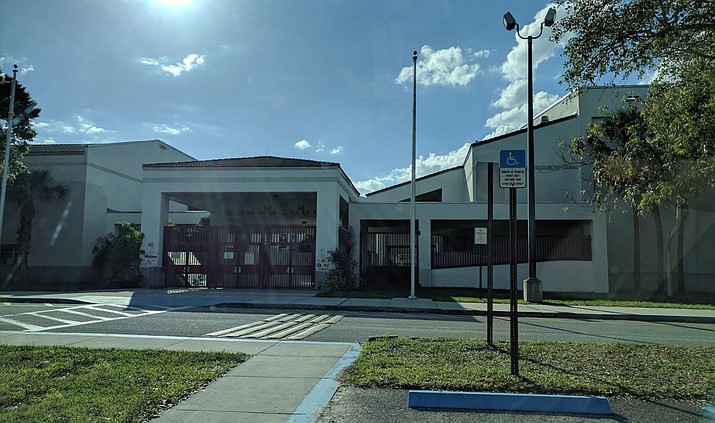 Originally Published: February 26, 2018 6 a.m.
PARKLAND, Fla. — Students at a Florida high school where 17 of their classmates and staff members were killed returned Sunday to gather their belongings thrown down in panic during the school shooting nearly two weeks ago.
Thousands of students joined their parents in walking past the three-story building at Marjory Stoneman Douglas High School where the Feb. 14 massacre took place. It is now cordoned off by a chain link fence that was covered with banners from other schools showing their support.
"Just seeing the building was scary," freshman Francesca Lozano said as she exited the school with her mom. Still, she was happy to see her friends. "That made it a lot better."
Seventeen people dressed in white costumes as angels stood by a makeshift memorial outside the school. Organizer Terry Decarlo said they try to go to every mass shooting and disaster so the survivors "know angels are looking over them and protecting them."
The school reopens Wednesday and administrators said families would get phone calls about details later. Sunday was a day to ease into the return.
California Democratic Party won't endorse Dianne Feinstein
SAN DIEGO — U.S. Sen. Dianne Feinstein failed to win the official endorsement of the California Democratic Party as she seeks her fifth term, another sign that the party is divided over how best to battle Republicans in Washington.
Democratic activists were more eager to back her primary challenger, state Senate leader Kevin de Leon, who is touting himself as a fresh face with stronger progressive credentials, particularly on immigration.
However, he too failed to earn the 60 percent support needed to win the endorsement Saturday at Democrats' annual convention. That means neither candidate will get the party's seal of approval or extra campaign cash leading into the June primary.
With Democrats still licking their wounds from the 2016 election, some of the party's biggest stars, including U.S. Sen. Kamala Harris and U.S. Rep. Maxine Waters, urged unity ahead of the midterm elections. They reminded more than 3,000 activists gathered this weekend that President Donald Trump is their common enemy.
Though party activists rebuked Feinstein, she has millions of dollars to run a successful campaign and polling has shown she enjoys wide support among Democratic voters and independents, a critical piece of the electorate in a race without a Republican.
Billy Graham had pride and regret on civil rights issues
BIRMINGHAM, Ala. — The Rev. Billy Graham was single-minded when he preached about God, prefacing sermon points with the phrase "The Bible says ..." Yet he had a complicated role in race relations, particularly when confronting segregation in his native South.
In Alabama for one of his evangelistic crusades in 1965, just months after passage of the Civil Rights Act, Graham talked about the Confederate flag flying "proudly" atop the state Capitol and the fact that both of his grandfathers served as rebel soldiers, according to a recording available on his ministry's website. He didn't address the evils of segregation directly, talking instead about God's unique power to change people and communities.
But Graham also drew scorn from segregationists for speaking to racially mixed crowds and allowing blacks and whites to mingle during the trademark altar call that ended each service. The Rev. Martin Luther King Jr. was an ally, and King publicly credited Graham with helping the cause of civil rights.
As a white moderate who spoke with a Southern drawl, Graham helped ease the region's transition away from legalized segregation, said Steven P. Miller, a scholar who has written about Graham. Graham had a "huge base" of white support in the Bible Belt, Miller said, and those people listened to him.
"He could reach that audience as a native Southerner, but also because he spoke a familiar evangelical language — and because he was obviously not an activist," said Miller, author of the book "Billy Graham and the Rise of the Republican South."
5 dead after tornado, flooding from central US storms
CHARLESTON, W.Va. — The death toll rose to at least five on Sunday after severe thunderstorms swept through the central U.S., spawning a tornado that flattened homes, gale force winds and widespread flooding from the Upper Midwest to Appalachia.
The system that stretched from Texas to the Canadian Maritime provinces had prompted several emergency declarations even before the dangerous storms arrived.
In southwestern Michigan, the body of a 48-year-old man was found floating in floodwaters Sunday in Kalamazoo, city Public Safety Lt. David Thomas said. Police were withholding the release of his name until notifying relatives. Thomas said the death didn't appear suspicious but the cause wasn't known. An autopsy was planned as early as Monday. Kalamazoo has hard hit by flooding from last week's heavy rains and melting snow.
In Kentucky, authorities said three people died. Two bodies were recovered from submerged vehicles in separate incidents Saturday.
A fertility doctor's secret, a special kinship decades later
ZIONSVILLE, Ind. — Matt White remembers that day in September 2016 when a mystery began to unravel that would change his life.
It started when White read a news report that Dr. Donald Cline, a retired Indianapolis fertility specialist, faced charges for lying when he denied he'd inseminated unwitting patients with his own sperm decades earlier. He searched out Cline's address online, recognizing it as the location of his mother's former doctor. Then he Googled the doctor's name. When a photo popped up, he was stunned: He looked like Cline.
"It was just too similar to be coincidental," he says. White had long known he was a donor baby, but that day, he had an eerie feeling he was staring at the man who was likely his biological father.
Around the same time, Julie Harmon saw a TV news story about Cline. She'd discovered years earlier that her blood type indicated she was not the child of both her parents. She didn't follow up to find out why, but the report about Cline, her mother's fertility doctor, was unnerving.
"In the pit of my stomach," she says, "I knew something was wrong."
Pyeongchang's final race delivers a lasting image
NEW YORK — Highlights from media coverage of the Pyeongchang Olympics:
FINAL RACE: Marit Bjoergen striding across the finish line in the 30-kilometer cross-country ski race holding a Norwegian flag, with no competitor near her, may be a defining image coming in Pyeongchang's final competition. After all, Norway dominated the games. Besides Bjoergen's easy win, the race's key moment came when Austria's Teresa Stadlober took a wrong turn on the course, knocking her from silver medal contention to a ninth place finish. NBC's Chad Salmela noted her confusion about the same time Stadlober realized she'd done something wrong, no mean feat since he was broadcasting the race from Connecticut off television monitors. Disappointing that NBC didn't revisit the story to find out what happened from Stadlober's point of view, or even to point out where she finished.
QUOTE: "I might need a bobsledder to give me a piggyback ride." — U.S. cross-country skier Jessica Diggins, chosen as the American team flag bearer in the closing ceremony, despite racing in the arduous 30-kilometer race.
RATINGS: NBC isn't immediately releasing viewership estimates from the last two nights of competition. Overnight estimates from the nation's largest markets indicate they will be the two least-watched Olympic nights. NBC's ratings were down from four years ago in Sochi but, at least at the beginning, held up better than even network executives expected. NBC Sports Chairman Mark Lazarus put a number to that on Sunday: He said the network was able to sell an additional $20 million worth of commercial time because it initially beat the ratings guarantees that it gave to advertisers. That freed up ad time that the network initially held back as a hedge against not making those guarantees.
1968: Sublime line delivered by narrator Serena Williams in "1968," the ambitious documentary aired Sunday about how world events affected that year's Olympics in Mexico City. John Carlos, the American athlete who, with Tommie Smith, delivered a clenched-fist salute from the winner's podium to call attention to treatment of blacks, visited a museum display about it in Washington, D.C. "It's a short list of living people who can visit a statue of themselves," Williams said.
Oodles of oohs and ughs in the Pyeongchang Games
PYEONGCHANG, South Korea — Wind, snow, ice or shine, the Winter Games had its share of golden moments that will forever be etched in Olympic lore.
The American men's so-called Miracurl on Ice. Alina Zagitova. Ester Ledecka. Chloe Kim. The U.S. women's hockey team.
There were also several not-so-spectacular performances in South Korea — and will be equally as memorable.
Russian doping. Jocelyne Larocque. Shani Davis. The U.S. men's Alpine team.
Here's a look at the oohs and ughs of the Pyeongchang Games:
4 critically injured by explosion and fire in UK's Leicester
LONDON — Four people were hospitalized in critical condition following an explosion that left a building in the English city of Leicester in flames Sunday, local emergency agencies said.
Leicestershire Police initially asked the public to stay away from the road where the explosion happened just after 7 p.m. while first responders tended to what was described as a "major incident."
The department said on its website about three hours later there was no indication the emergency was terrorist-related. It asked the news media and everyone else not to speculate about the cause.
"The cause of the explosion will be the subject of a joint investigation by the police and Leicestershire Fire and Rescue Service," the police department said.
The incident on a crowded street that leads into Leicester's city center was being treated as a search-and-rescue operation, the Fire and Rescue Service said. Six fire engines and a hazardous material response team were deployed.
More like this story