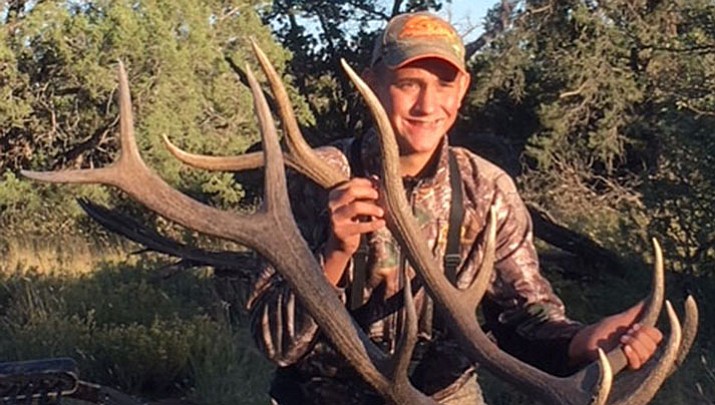 Originally Published: February 27, 2018 5:59 a.m.
Kingman resident Pason McCans comes from a hunting family. His father Jeff, mother Misty and sister Courtney all hunt. As the youngest member of the McCans family, Pason who is 15 years old, has grown up watching and assisting other friends and family as they have hunted big game in Arizona.
In 2017, Pason had the good fortune to draw an archery elk tag in Unit 10 and a general deer tag in Unit 18B.
On his elk hunt was his father and friend and veteran hunter Mike Cobb. They passed on a number of small bulls before he settled in on 6x6 bull that was called in to 14 yards. The bull spotted something and turned and bolted, but stopped at 20 yards when he heard a cow call.
Pason, who was using a Mathews compound bow given to him by friend Tony Campbell, made a perfect shot and the bull ran less than 50 yards before expiring.
This bull was the first one the young hunter had ever taken.
Next up was a general rifle deer hunt in Unit 18B. Pason had done a lot of hunting in this unit, and had previously taken a buck there. This year, on his 15th birthday, he was able to down his best deer to date; a good 3x3. Pason was helped on the hunt by his aunt and uncle, Dena and Jack Yeager, who actually glassed up the bedded buck.
Pason made a great stalk and took the buck at 200 yards with one shot.
Pason had decided that when it came to hunting javelina, he wanted to use only his bow. He had taken pigs in the past with a rifle, but wanted the challenge of using a bow to "Bring home the bacon."
His first tag in 2018 was for the archery javelina hunt in Unit 18B. Using stalking skills that he had acquired over the years, the freshman at Lee Williams High School, who by the way is enrolled in the elite Cambridge Program, was able to get within 15 feet before he bagged his first ever archery javelina.
But he wasn't done yet.
He also had purchased a leftover HAM (Handgun-Archery-Muzzleloader) javelina tag and on the second weekend of that hunt, he bagged his second archery pig. This one was taken at 25 yards.
Besides big game, Pason also has gone on several small game predator hunts. Just a few weeks ago Pason and friend Mike Cobb went out to do some varmint calling. Mike called in a coyote and a grey fox, and Pason got them both.
Pason has applied once again for an archery elk tag, but he applied for a coveted rifle tag for antelope.
Pason, like a lot of young hunters, is becoming more and more proficient with his bow and he enjoys the time he spends with friends and family on their hunts.
More like this story