Originally Published: February 28, 2018 6 a.m.
March is the month for spring, sunshine, flowers and women's history. Throughout Kingman's timeline, there have been many impactful women, from Grace and Amy Neal to Effie Bonelli and Rachel Lang.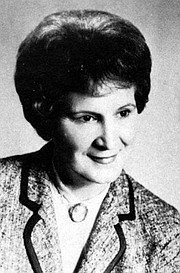 Another historical woman is Fay Logsdon.
Logsdon was born in 1907 in the Arizona Territory town of Prescott. In 1926 she graduated from Tempe Normal School, which is now Arizona State University. After her graduation, Logsdon taught in one-room schools in Kingman, Peach Springs, Yucca, Knight Creek and Trout Creek.
"Teaching at these schools was hard work," reads a biography of Fay Logsdon at the Mohave Museum of History and Arts.
The schools had primitive heating and hauled water. Since there was only one room, children of all ages would learn in the same space, and there could be 11 to 40 students at any given time in the one room. Students had to bring their own water cups, and teachers would have to clean the wood stove every morning before class started.
In 1941, Logsdon was elected Mohave County Superintendent of Schools with 1,185 votes, Mohave County's population was roughly 8,591, according to the 1940 census. She beat the incumbent, Nancy Thele, and Harry Lenn.
A county superintendent is responsible for organizing teacher certification exams, preparing and administering the county school budget, supervising teachers, preparing payroll, representing the county at state education meetings, distributing state education information, and visiting each school in the county at least twice a year. In 1947, there were 25 elementary schools, one high school and one accommodation school, totaling 1,486 students, two county nurses and one Kingman school nurse.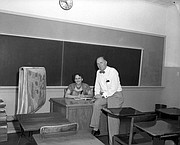 Logsdon had to drive through washes and down dirt roads to visit all these schools twice a year. Her car would often get stuck and "once she had to be pulled out by a team of mules."
During her time as superintendent of schools, Logsdon married her husband Bill, who managed Getz Ranch. She was a wife and mother of one child, William. Also during her time as superintendent, World War II defense jobs lured away many teachers. In Arizona, 87 schools were forced to close during that time. Some Mohave County schools closed, but Logsdon worked with school boards to provide other alternatives.
Logsdon was re-elected six times and served as the county school superintendent for 13 years. In 1954, Logsdon resigned and began teaching at Mohave County Union High School, now Kingman High School, where she taught English until her retirement in 1972.
Logsdon became one of the first recipients of the Kingman Women Making History Award in 1984 for her role in education. She was recognized alongside five other women that March. Throughout her lifetime, Logsdon was a member of the Kingman Business and Professional Women, Delta Kappa Gamma, Mohave County Board of Trustees, Cowbells, Esther Circle and St. John's Methodist Church.
Fay Logsdon died Feb. 17, 1995 at age 88 in Stockton, California.
Logsdon is just one of many impactful women in Kingman, and several more women like her will be recognized at this year's Women Making History Award ceremony Sunday.
Mayor Monica Gates proclaimed the month of March as Women Making History Month locally, and nationally March is known as Women's History Month.
"It is my honor to proclaim March as Women Making History Month in Kingman," Gates wrote in an email to the Miner. "Since its inception in 1984, over 200 women have been recognized for their valuable contributions to our community. The Women Making History Committee is to be commended for their dedication to celebrating the successful and inspirational women that have worked diligently to make Kingman a better place."
More like this story