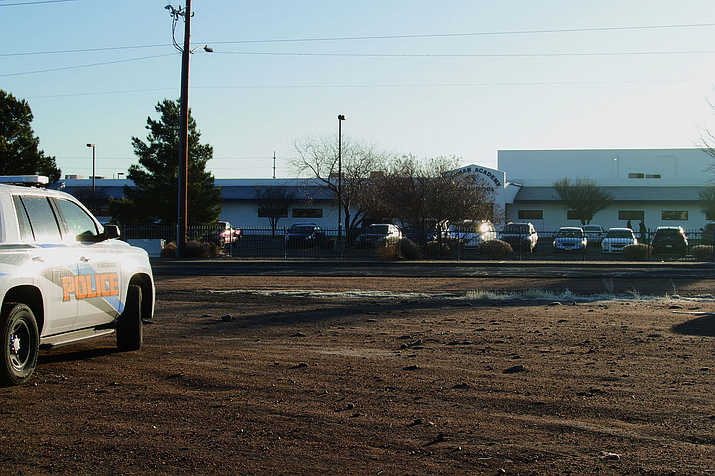 Photo by Vanessa Espinoza.
Originally Published: February 28, 2018 11:37 a.m.
KINGMAN – A late-night flurry of social media activity on Facebook led Kingman Academy of Learning school officials and the Kingman Police Department to each make its own posts to put a rumored school shooting threat at KAOL's high school to rest Tuesday.
KPD posted Tuesday evening after KAOL's executive director, Susan Chan, tried to ease worried parents about a bullet that was found in a classroom at Kingman Academy High School earlier in the day and a school resource officer started an investigation.
"A rumor has been started by some of our high school students warning other students not to attend school tomorrow (Wednesday) due to a possible school shooting," Chan wrote on the Kingman Academy High School Facebook page. "This situation was reported to the school via email and we immediately contacted Kingman Police Department."
Chan's response came after there were many posts on the group page "Kingman Orchids and Onions" regarding the situation Tuesday night. KPD then followed up Chan's post with one of its own.
"School officials were able to identify the student that dropped the bullet," the KPD post read. "Officers confirmed that the student had been target practicing the weekend before and simply left it in his pocket."
Chan also let the other three principals in the KAOL district know about the situation Tuesday evening, and advised them to post on their Facebook page and let their faculty know about the rumor.
According to KPD, the student was cooperative while having his backpack searched and police concluded no threat was intended.
As the day progressed students began talking about the bullet that was found, which created the hysteria on various social media platforms. As word traveled, parents and students were passing information that was inaccurate, KPD said.
Despite the rumor, there was an added police presence in front of the school at the start of Wednesday's school day.
"The school was very calm this (Wednesday) morning," Chan said, "and felt very safe with all the police presence on campus and some policemen were even undercover."
KPD is investigating sources of information and questioning those who have been providing false information on social media.
The Daily Miner reached out to school officials Wednesday morning, but they were unavailable to comment.
More like this story