Originally Published: February 28, 2018 5:58 a.m.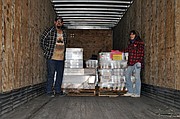 Corporate officials at Purina opened their hearts and proverbial pet-food wallets this month by donating pet-food products to a local domestic no-kill animal shelter and sanctuary in Mohave County.
Purina's current policy of donating food to local sanctuaries and rescues is they must be within 50 miles of a Purina manufacturing and distribution facility or a pet food bank. Purina's closest Arizona facility is in Flagstaff in Coconino County, about 150 miles away from Kingman. The only pet food bank in Arizona is in the city of Tucson in Pima County, and that's even further at more than 300 miles away.
Because of their recent surprise decision and override of their current policy, 14 pallets totaling more than 10,000 pounds of dog and cat food, in addition to pet treats, were provided this month to For the Luv Of Paws in Golden Valley. Independent long-haul truckers Tracy Langley and Shane Isbell, who are devoted supporters of For the Luv Of Paws, donated their time, cost of fuel and their semitruck to drive to Flagstaff to pick up the pet food donation and deliver it to Golden Valley.
"Pets are at the heart of what we do every day at Purina" said Larry Holmes, plant manager at the Flagstaff facility. "We know firsthand the joy that they (pets) bring to our lives, which is why we support pet shelters and rescues and their mission to find loving homes for more dogs and cats. We're glad to support For the Luv of Paws in their work to be a champion for adoptable pets." Purina's Flagstaff plant donated more than 500,000 pounds of Purina products in 2017, which went to shelters and pet rescues in Arizona and the larger region.
For the Luv Of Paws founder Cherie Dalynn is extremely pleased that Purina decided to make a donation to her non-kill domestic animal sanctuary and shelter ,even though her place is about 175 miles away from Flagstaff. Dalynn was unaware that Purina was going to donate pet-food products so she put out an emergency call locally for pet food, which garnered 2,700 pounds of animal food from residents.
If it were not for Purina's donation, she didn't know where she was going to get adequate amounts of food to feed the animals at her facility. Dalynn estimates that with the 10,000 pounds of product she received from Purina and the 2,700 pounds and $300 cash donated by local residents, she will feed the animals at her facility for about eight months.
Many are not aware Dalynn donates her time to participate in the Tri-State Veterans Stand-Down held annually in Bullhead City.
Dalynn and her non-kill domestic animal sanctuary and shelter distributes pet products such as treats, toys, leashes and food bowls for the homeless veterans' pets.
Sanctuaries and rescues interested in receiving pet food products and/or information from Purina can do so by visiting their website at https://www.purina.com, and those interested in volunteering at or donating to For the Luv Of Paws in Golden Valley can do so by visiting their website at http://www.fortheluvofpaws.org or by calling Dalynn at 928-897-7304.
For the Luv Of Paws in Golden Valley is a 501(c)(3) nonprofit organization and all donations are tax deductible.
"Until one has loved an animal, a part of one's soul remains unawakened." – Anatole France (April 1844 – October 1924), a French poet, journalist, and novelist who won the 1921 Nobel Prize in Literature.
More like this story