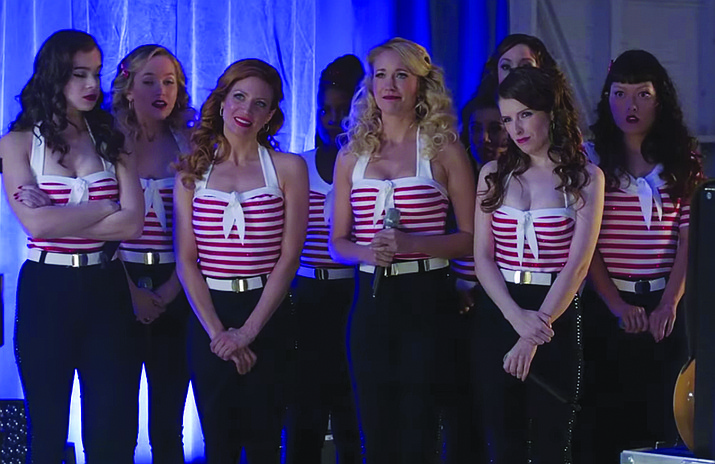 Originally Published: January 2, 2018 5:59 a.m.
Yes this is the third remake. It's much better than the second, just about as good as the first and definitely takes a few wild turns in the story line. The cast is the same with Anna Kendrick as Beca leading the all girl singing group. For those of you who don't know, the girl group sings a Capella, which means just using their voices and without musical accompaniment. What I didn't realize when I was sitting in those new, comfortable theater chairs is what a workout seeing this movie was. I quickly found my feet stompin' to the beat. I'm sure I burned off the equivalent number of calories as a large popcorn and soda.
The movie opens with the Bellas singing/dancing on a yacht, soon followed by Rebel Wilson (Fat Amy) crashing through a skylight unleashing all the fury a fire extinguisher can toward her long lost father John Lithgow. The girls dive off the boat just as it explodes in a large fireball. Yup, this is a dramatic turn of events even for the Pitch Perfect series.
But wait, there's more. Back up a couple weeks and we find several of the Bellas struggling to make their way through life and not being very successful at it. But the Bellas get invited to watch another a Capella group sing. Then they get the idea of getting together and singing again. They manage to get invited on a USO tour where, of course, they compete against a couple of musical bands to be able to open for DJ Khaled.
It bothered me that these groups all looked to DJ Khaled as some sort of God and paid him as much deference. Not knowing if this DJ guy was fictional or real I actually googled him to find out he is, in fact, real. A real DJ and music producer who seems quite successful. Still, I think their treatment of him was over the top. But it played well with the storyline because if the audience, like myself, didn't know who DJ Khaled was the cast sure made it seem like he was an important person. As in the first two Pitch Perfect franchises, there was a competition of some sort for a highly attractive prize.
One thing that made me a little dizzy though was how the camera would skip from one person to the next and so on rather quickly during their songs. Maybe I'm a bit old school, but wouldn't a wider shot encompassing the whole group have been better? I'm splitting hairs here. Rather, look at the entire movie: the singing, the dancing, the simple story line and even the weird story deviations of a yacht rescue, the long lost father and Fat Amy's newfound wealth.
Pitch Perfect 3 is about an hour and 34 minutes long, rated PG and goes by quickly with no uninteresting lulls. This is a movie the entire family can enjoy. Just remember to hydrate beforehand and wear comfortable shoes. I'll give Pitch Perfect 3 a perfect 5 out of 5 Miners.