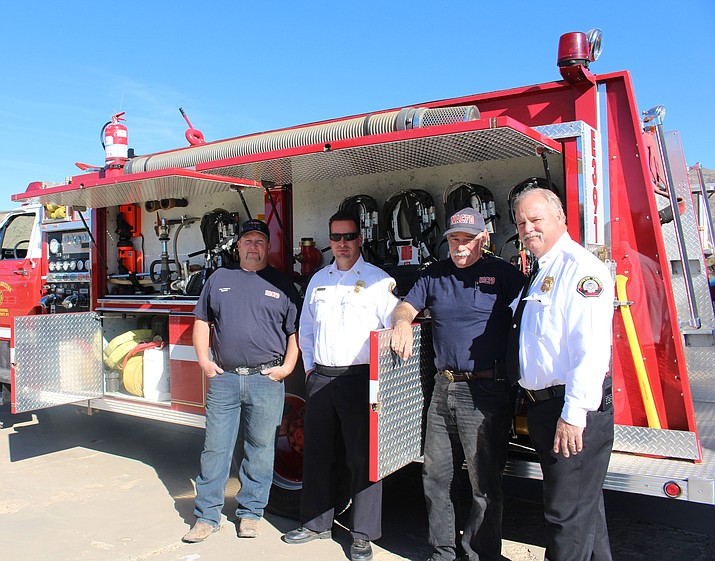 Photo by Hubble Ray Smith.
Originally Published: January 7, 2018 6 a.m.
It's been at least four years since there was a fire in this historic mining town (knock on wood), which is fortunate, because it's been without a fire department for most of that time.
That changed in September when Mike Pettway and Jay Fleming stepped up as volunteer firefighters for Northern Arizona Consolidated Fire District, staffing the Chloride fire station that was closed in 2014 because of budget cuts.
Pettway works full time for Lake Mohave Ranchos Fire District, and is paid for being on call as captain of the Chloride station.
Fleming, 65, is a retired police officer from Washington who's been involved with the citizens' response team in Chloride for several years, even though he lives in Dolan Springs.
"Our fire department in Dolan wasn't keen on volunteers, so I just volunteered over here," he said. "After 9/11 (terrorist attacks), the fever seemed to be that everyone wanted to be the hero of the day. After that, it kind of dwindled."
Volunteering as a firefighter is by no means a glamorous job and there's little to no pay, except for minimal reimbursement of expenses, yet volunteers play a critical role in supporting the fire department.
"It's incredibly helpful to get extra people on the scene of a fire and accidents," said Wayne Eder, chief of the Northern Arizona Consolidated Fire District.
NACFD had eight volunteers assist with a December structure fire in Birdland, doubling the on-scene staff.
Recruiting volunteer firefighters is imperative to building a strong department, but it's definitely a challenge, Eder said. He has about 20 volunteers, including three women who recently joined.
Several factors contribute to the challenge in recruiting volunteer firefighters:
• Lack of marketing on the part of local fire departments leading to perception that they're fully staffed.
• Weakening sense of community among the population in part because the department may not adequately reflect the diversity of people it serves.
• Ratio of men versus women in the fire service giving a misconception that the fire department is a "good old boys club."
• Lack of available or convenient entry-level fire and EMS training opportunities.
Growing need
According to the National Volunteer Fire Council, about one-third of volunteers in rural towns are over 50 years of age.
It's nice to have young volunteers, but Eder will take what he can get.
"You have to understand some of these guys are coming on not as interior structure firefighters, but to help in any way they can," he said.
While the number of volunteer firefighters and emergency medical personnel has remained about the same over the last 15 to 20 years, the call volume – especially for EMS – doubles every five years.
Recruiting volunteer firefighters has been a challenge for Golden Valley Fire Department and departments across the country, said Capt. Dave Cunningham, who has six volunteers in his department.
Volunteer firefighters still outnumber career firefighters, but those numbers have been declining over the last 20 years, he noted.
"One reason for the decline is due to the change in times," Cunningham said. "Today's busy America doesn't give folks time to volunteer their services like they used to."
Employers would allow volunteer firefighters to leave their jobs in the past to fight fires, in some cases even paying their salary. That's not happening in today's bottom-line corporate world.
Many households depend on two incomes, with husbands and wives working longer hours to make ends meet, Cunningham added.
"Any given time off is time spent together with family, leaving less time and less willingness to volunteer," he said.
Keith Eaton, assistant fire chief at Kingman Fire Department, said he hasn't had any volunteers for a number of years, though the department has about a dozen part-time employees.
KFD switched from volunteers to paid on-call employees about 15 years ago, using them to backfill full-time firefighters who are on vacation or sick, Eaton said.
"This program is extremely valuable keeping overtime and personnel costs down," he said. "As an incentive to maintain our numbers within this program, we only hire our full-time firefighters from this group."
They work 96 hours in a 28-day cycle to maintain their part-time status.
Training requirements
A lot of volunteers come with experience from other fire departments, but still require regular training.
"We just try to get their training up to speed," Eder said. "Some are just interested in traffic control, moving people from their home. There's a lot of different levels."
The second level is exterior firefighters who battle a blaze from outside the building, or a vehicle fire. It allows someone interested in becoming a full-time firefighter to get familiar with the system, Eder said.
Cunningham of Golden Valley said volunteers have to pass medical examinations, physical agility tests and annual testing to reduce liability for fire departments.
Along with the tests, they go through the same training as full-time firefighters, including emergency medical response, vehicle extrication, hazardous materials, wildland firefighting and search and rescue.
NACFD applied for a volunteer fire assistance grant in November to pay for volunteer and staff firefighters to attend the Arizona Wildfire Academy in March and to purchase wildland protective clothing for volunteers.
"We want all of our personnel, both paid and volunteer, to be properly trained and equipped to handle our varied call volume," Eder said.