Originally Published: January 8, 2018 6 a.m.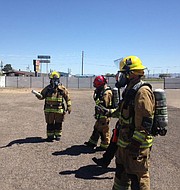 The suspected carbon monoxide poisoning that killed a family of four staying in a cabin at Parks, between Flagstaff and Williams, over New Year's weekend prompted an awareness alert from Kingman Fire Department.
The symptoms of carbon monoxide poisoning are similar to the flu, including headache, nausea and dizziness, and common remedies won't cure them, said Oscar Lopez, fire prevention specialist with KFD.
You might also experience shortness of breath, confusion, blurred vision and loss of consciousness.
Carbon monoxide is a colorless, odorless and tasteless gas produced from unburnt fuel in wood and charcoal stoves, propane and other heating appliances.
It's silent and deadly, taking the lives of 430 people a year in the United States, according to the Centers for Disease Control and Prevention.
"We haven't had any major incidents in Kingman, but we do get calls all the time, especially in the winter," said Lopez, who announced on Facebook Friday he will be taking a job as fire chief of Hualapai Nation.
"People do what they're supposed to do – get out of the house. It does happen," he said.
KFD responds to carbon monoxide reports by going into the home with a monitoring device to detect lower levels, which is still significant, Lopez said. Even at 35 parts per million (ppm), constant exposure will cause headaches and dizziness.
"A family goes to bed and has six to eight hours exposure to carbon monoxide, you wake up with a headache. This is getting worse, not better. An aspirin won't get rid of this headache. Fresh air is the only thing," the fire official said.
In extreme cases of carbon monoxide poisoning, people are taken to the hospital and placed in a hyperbaric oxygen chamber to increase oxygen in their bloodstream.
"Anything with a flu-like symptom, get out of the house and call 9-1-1," Lopez said. "We'll take readings with our monitor. If it's coming from a gas heater or propane, we can put them in contact with the proper resources to get that taken care of."
Some health problems from carbon monoxide poisoning are short-term and some can be permanently damaging and even fatal. When too much carbon monoxide is in the air, your body replaces the oxygen in your red blood cells with carbon monoxide.
Carbon monoxide can result in brain damage, heart problems, major organ dysfunction, memory or cognitive problems, behavioral and personality changes and a range of other problems.
"There are many ways to reduce the risk of carbon monoxide exposure, but these dangers often get the better of people who have no idea what the signs are, how to aid prevention, how to treat symptoms and what the causes of the carbon monoxide pollution are," Lopez said.
However the fact that this gas is practically undetectable to the general public along with the fact that the symptoms of carbon monoxide poisoning are so non-specific can contribute to the level of danger that this gas carries.
Carbon monoxide poisoning is entirely preventable, which could save thousands of people from visiting emergency rooms each year and avoid its harmful effects.
Following are prevention tips from the CDC:
Do not run a motor vehicle, generator, pressure washer or gasoline-powered engine within 20 feet of an open window, door or vent. Exhaust can vent into enclosed areas, increasing CO exposure risk.
Do not leave motor vehicles running in enclosed places such as the garage.
Do not run gasoline-powered engines in basements, garages or other enclosed structures, even if windows are open.
Do not operate charcoal grills, hibachis, lanterns or portable camping stoves indoors or inside tents and campers.