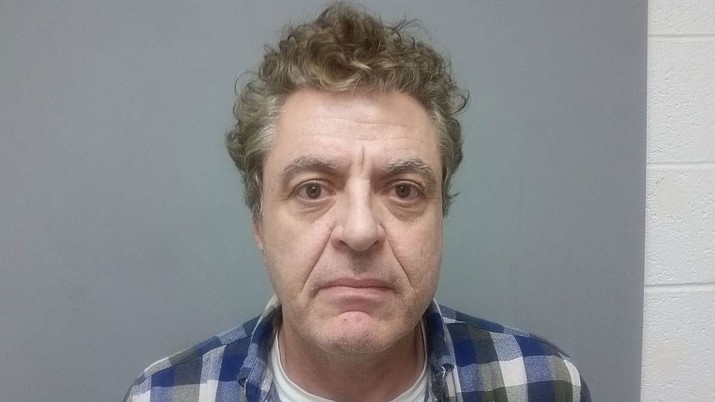 Originally Published: January 8, 2018 5:57 a.m.
LAKE HAVASU CITY – It has been two months since a Lake Havasu City doctor was arrested on charges of sexual assault, and one Arizona inmate may be a key witness in his pending trial.
Ayman N. Awad, 58, is accused of an alleged sexual assault against an unconscious woman which investigators say took place in 2008. He appeared in Mohave County Superior Court on Jan. 2 for a case management conference, during which attorneys for the state and defense addressed obstacles and plans for Awad's pending trial. According to attorney Mike Wozniak, who is defending Awad, the defense is awaiting information about Kerri J. Hynes, a former employee at Awad's business, Lake Havasu Imaging Center. Hynes allegedly delivered incriminating evidence against Awad to the FBI in Nov. 2015, according to the police report and statements by Hynes.
Hynes, 42, was an office manager at Lake Havasu Imaging Center from August 2014 until June 2015. She was accused of charging more than $72,000 to accounts belonging to Awad, without his knowledge or consent. She was also accused of manipulating payroll records at Awad's business, paying herself for hours she allegedly did not work. Hynes is now serving a nine-year sentence in Arizona State Prison's Perryville facility.
According to police records, detectives confronted Hynes with fraudulent checks and receipts for purchases allegedly made by Hynes, for which she had no explanation. Electronic checks from local banks and receipts from local businesses indicated that Hynes used money belonging to Awad's business to illegally pay personal expenses. Hynes said in her interview with detectives that she never spent any of the Lake Havasu Imaging Center's money, or Awad's money without Awad's authorization.
Hynes contacted the Today's News-Herald in December, and maintained her innocence on those charges. She pleaded guilty in June 2016 on advice from her public defender, but applied for post-conviction relief from Mohave County Superior Court in May of 2017. A hearing for Hynes to argue for post-conviction relief was recently postponed until later this month, according to court records.
Hynes made the request citing a "denial of her constitutional right to representation by a competent lawyer" at every stage of the proceeding, and the existence of "newly-discovered material" that would require the court to vacate her sentence or conviction, according to her filed request.
According to statements by Hynes in December, she said she began noticing inconsistencies in Awad's business records as early as October 2014, and intended to act as a whistleblower by turning over the records to law enforcement.
According to Hynes, she approached the FBI and Lake Havasu City Police Department, as well as the Occupational Safety and Health Administration, in reference to documentation she allegedly recovered about Awad's business practices.
In 2015, Hynes said, her alleged investigation led her to an external hard drive found in a desk at Lake Havasu Imaging Center. It was on that hard drive that Hynes said she found evidence of criminal activity including digital photographs depicting the alleged sexual assault of an unconscious woman in Awad's home, which Mohave County Attorneys say occurred in March 2008.
According to Hynes, she intended to bring a copy of the allegedly incriminating files to the FBI in Phoenix, after she returned from a family vacation to Boston in late May-early June 2015. According to Hynes' mother, Diane Hynes, it was during this vacation that Kerri Hynes began receiving increasingly-agitated phone messages from Awad.
Upon her return to Lake Havasu City on June 9, 2015, Hynes was arrested and charged with 11 counts of theft and one count of fraudulent schemes and artifices, allegedly committed against Awad from Feb 2015-June 2015. Hynes was initially held on $100,000 bond, according to court records, but her bond was reduced in July 2015 to $35,000, which was posted for her.
According to the police report in Awad's case, officers seized documentation from Hynes's home, which she had gathered in the course of her investigation into Awad's business practices. Police did not seize the hard drive because Awad did not report the hard drive having been stolen from his office, according to the report.
In November 2015, Hynes delivered her alleged evidence to FBI agents in Phoenix. According to police records, the FBI spent nearly two years investigating the case and attempting to identify the alleged victim from the photos allegedly taken from Awad's hard drive. The victim was eventually located in Los Angeles, and FBI agents were forced to show her the evidence.
During her interview with FBI agents, the alleged victim acknowledged being in Havasu for spring break in 2008 and confirmed that she was the person in the photographs. According to police records, the victim was brought to Awad's home from a Havasu bar, where she reportedly lost consciousness. The victim had no memory of Awad's alleged assault, according to police.
Because the victim was identified as being older than 18 at the time of the alleged incident, the FBI returned jurisdiction over the case against Awad to the Lake Havasu City Police Department. Awad was arrested Nov. 15, 2017, and remains free from custody on $30,000 bond.
Hynes's appeal for post-conviction relief has been postponed until Jan. 30.
Multiple attempts to contact Awad by telephone were unsuccessful as of 5 p.m. Friday.