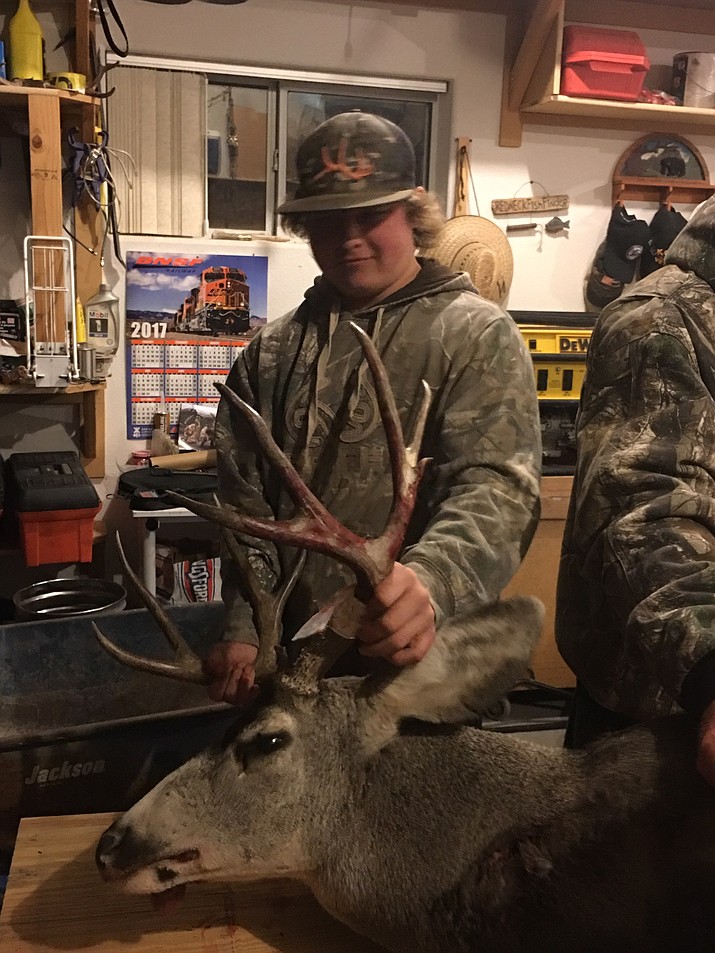 Originally Published: January 9, 2018 5:58 a.m.
The season for the last muzzleloader juniors' deer hunt in December for those under 18 years old has closed. Lady Luck smiled on one young Kingman sportsmen and the produced the best buck he has ever taken.
Adam Chastain likes to hunt and this year he drew one of the 25 juniors' only deer tags for game management Unit 16A, which includes the Hualapai Mountains. It would be the second muzzleloader tag in this unit for the young sportsman.
While Adam didn't have much luck on the opening weekend of the hunt, he decided to go out after school Monday and see if he could find a good buck that was close to town.
Adam asked a friend and classmate Dillon Smail go with him and they decided to stay close to Kingman since they had just a few hours to hunt. Chastain decided to try his luck on the north end of the mountain range.
Turned out that Lady Luck would smile on him that fateful afternoon. Chastain spotted a mature buck that was by himself feeding along an old, abandoned road.
The young hunter was able to get out of his vehicle and get off the road. He got set up while the buck kept feeding, seemingly oblivious to the young hunter and his friend.
It took just one shot with the 50-caliber muzzleloader and his hunt was over.
The buck sported antlers a wide set of antlers that had five points on one side and four on the other.
It is the best buck that Chastain has taken.
More like this story