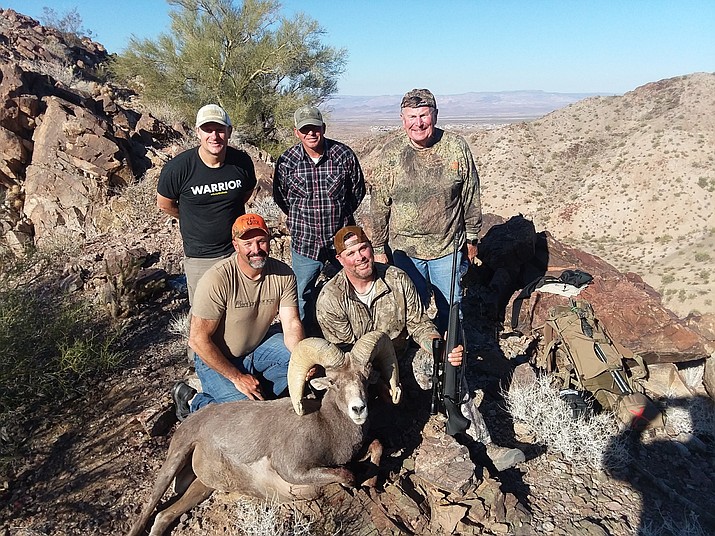 Photo by Don Martin.
Originally Published: January 9, 2018 5:59 a.m.
Webster defines a volunteer as "one who does anything of his own free will." But I think it is much more than that. I believe that volunteers are people who without any expectation of reward or payment, help out others or organizations because they feel it is the right thing to do.
Recently, I have had the opportunity to be involved in a couple of events where the impact of volunteers became very obvious.
Last week I wrote about a wounded American hero, Joe Masseur, and his quest for a desert bighorn sheep in game management Unit 16A.
Having been on many, many sheep hunts in the past, I can tell you that having men and women who know how to glass for sheep in the many miles of arid and barren desert landscape that make up sheep habitat is vitally important to the success of any sheep hunt. And this one would not be any different.
Helping on this hunt are names I'm sure you've heard plenty of times before. Kingman residents Jay Chan, Gary Martin, Page McDonald, Jennifer Chambers, Jim Guin and his grandson Sean were out there. So was Steve Tague, who would take a tumble off a waterfall that scared us all. Vernon, Arizona resident Andy Musacchio, who we hunted sheep with in Unit 15D in 2016 came out. So did Phoenix area residents Marc Schwartzkopf and Glenn Leon.
Then there were the guys from the Lake Havasu/Topock area. John Warren, Brian Williams and Mike Hulsey were there. Area resident Brad Shelton came out too, and provided some valuable insight on sheep in that unit. And who could forget the staff AES videographer, Phoenix resident Mike Pellegati who was there for the first five days of the hunt.
Some of these folks would be there for the first five days of the hunts. Others, just a day or two. But it didn't matter, they all volunteered time away from families and to help someone they had never met before. It is what sportsmen do.
In the end Masseur was able to take a ram of a lifetime.
Last weekend members of the Kingman Hunter Education Team, who are also unpaid volunteer and certified instructors for the Arizona Game and Fish Department, were present for a one-day supplemental hunter education class at the Mohave Sportsman Club's 7 Mile Hill Range.
Volunteer instructors from the local team included Jay Chan, John Rodriguez, Page McDonald, John Schmidt and Jamaica Smith.
I also put out a call for citizen volunteers who would watch and assist the instructors on the various field day exercises, plus the in class instruction.
Sometimes "fresh eyes and ears" can help out with new ideas to make a program better. These local citizens were invited to critique our team and presentation to offer suggestions on how to make the class better for those 30 non-residents who had come from Utah, California, Nevada, Oregon, Washington and even Texas.
Those locals who answered that call included Steve Tague, Gary Martin, Joe Herrero and Bill Schleeter.
The citizens watched as the volunteer instructor staff presented the information to those who had driven or flown many miles to attend the class.
The feedback I got from the local citizens is very important, and I fully intend to forward their comments and suggestions to the supervisors of the Arizona Hunter Education program.
Volunteers are the backbone of many organizations.
Without them, many organizations or groups couldn't operate or be viable.
Think about volunteering your time and talent to a worthwhile organization. The reward you get from helping others is far more satisfying than any paycheck.
More like this story