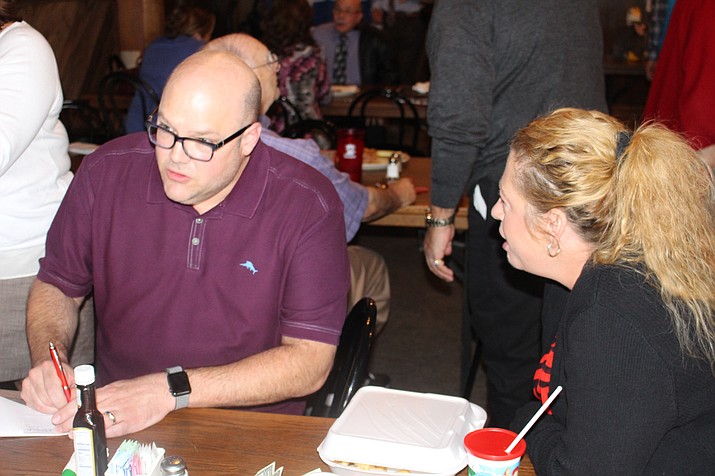 Photo by Hubble Ray Smith.
Originally Published: January 9, 2018 5:58 a.m.
KINGMAN – It's no longer the Boys and Girls Club of Kingman, but the Club for Youth is the same nonprofit organization with a focus on youth development, Chief Executive Officer Bill Ward said Monday.
Ward discussed the local board's decision to end its affiliation with Boys and Girls Club of America, explaining that the national organization's requirements did not "fit well" with the local club.
"The fees were too excessive. It was a constraint on our budget," Ward told about 45 people at the monthly meeting of Conservative Republican Club of Kingman.
Boys and Girls Club of America required about $25,000 in membership costs, including $13,000 for an annual audit, $6,000 for conferences and training and $3,000 BGCA membership fee.
The national organization also increased its sexual misconduct liability insurance by another $1,000, Ward added.
"The board of directors wanted that money to stay here locally," he said. "We don't feel the name change has anything to do with what we do. In Kingman, we're so tight-knit as a community, we don't think national association is that important."
The advantage of the national affiliation, besides carrying the name, is access to programs, but most of those programs were created for Boys and Girls Clubs in large metropolitan areas, Ward noted.
"So we can't always use those programs. It's easier for us to create our own programs," he said.
The Boys and Girls Club served 422 youths in 2017, and the Club for Youth will build upon that with programs focused on healthy lifestyles, social skills, fitness and technology, Ward said.
The club's mission is to inspire and empower all youth, especially those who need it the most, to realize their full potential as productive, responsible and caring citizens.
Ward cited troubling statistics about low test scores in math and reading for Arizona elementary schools. The club's after-school learning center helps students complete their homework with help from staff members.
"We are not a day care. We're youth development," the CEO said. "We want to focus on all youths, not just elementary school. It's our responsibility as community leaders to create an environment for success."
Middle school kids are out picking up trash, volunteering at the animal shelter and learning how to give back to the community, he said. The younger kids have started a garden across the street from the club at 301 N. First St. to learn how to grow healthy foods.
The Club for Youth arts program expands the minds and imagination of kids while defining their creative skills and interests.
The technology center familiarizes youths with basic computer skills, productivity software and internet use. In today's dominance of online interaction, it's important to teach kids social responsibility and safety, Ward said.
The club is looking for a possible new location, having outgrown its current facility, Ward said. He said it would be cost-prohibitive to move into Palo Christi Elementary School, which was one of the suggested uses for the repurposed school.
The project would be designed and built in stages, with construction starting in 2020, Ward said. It would cost about $150 a square foot.
More like this story