Originally Published: January 11, 2018 6 a.m.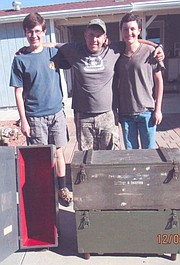 KINGMAN – Boy Scout Laine Barnes Troop 98 of Kingman is working on three Flag Retirement Boxes for his Eagle Scout Project assisted by current Eagle Scouts Josh Taflan and Nick Taflan.
The boxes are 1950s Military Burner Boxes that are being completely dismantled, gutted of excess wood holding parts, stripped, sanded, painted, new rope handles braided and placed on the sides, lined on the inside bottom, feet placed so that the flags will never touch the ground, labeled and plaques placed for remembrance.
The boxes will hold the worn flags of days past until they are given the proper disposal ceremony.
The boxes are scheduled to be completed the beginning of March for placement at VFW Post 3516 at 2826 Wikieup Ave. and VFW Post 10386 at 3036 E. John L Ave., with the third box being placed at the Tri-State Shooting Range on 4831 Boundary Cone Road in Mohave Valley for the public disposal of their worn flags.
Scout Barnes thanks everyone who so graciously gave their time, donations and financial backing to this project.
More like this story