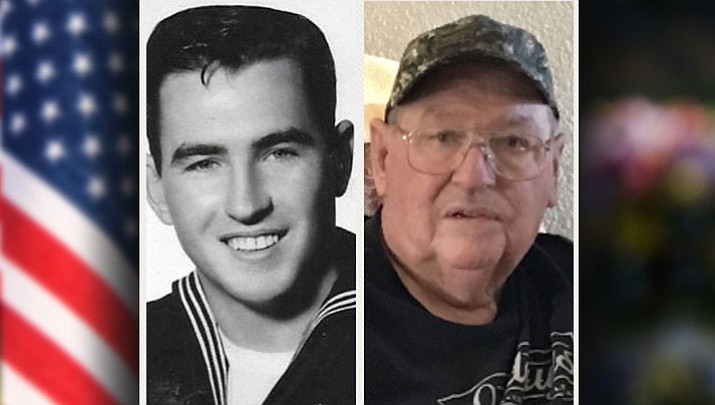 Originally Published: January 14, 2018 6 a.m.
James "Jim" Alldredge, 73, passed away Jan. 8, 2018 at his home in Kingman, Arizona. He was born June 22, 1944 to Forrest and Helen Alldredge in Taft, California.
On Dec. 1, 1965, he married Brenda Bradley in Hayward, California. Jim enjoyed hunting, fishing, and his 1955 Chevy that he enjoyed driving and meeting his many friends and car enthusiasts.
On March 15, 1962 he enlisted into the U.S. Navy, where he was stationed aboard the USS Coral Sea, then stationed at Pearl Harbor Naval Base from 1966 to 1969, and until his Honorable Discharge he was aboard the USS Benner out of Long Beach, California.
After leaving the Navy, he worked in oilfields until retiring in 2002 from Chevron Oil Company.
Jim is survived by his wife of 52 years; Brenda Alldredge, daughters; Gina Couch (James Black) and Jody O'Dell (Brian O'Dell), grandchildren; Donovan Couch, Zackary O'Dell, Mariaha O'Dell, and Brittlynn O'Dell, his mother; Helen "Ella" Alldredge, siblings; Charles and Janet Alldredge, Sam and Julie Alldredge, Linda and Terry Randall, and Debbie and Randy Kightlinger, sister-in-law; Karen Beliveau, brother-in-law; Stan "Pete" Beliveau, dearest friends; JR and Micki Balentine, good neighbors; Rick and Randy, many nieces and nephews, and his precious puppy and TV buddy; Kobe.
Jim is preceded in death by his sister; Kathleen and her husband Jimmy Waddell, father; Forest N. Alldredge, and nephew; Michael Alldredge.
At the request of family in lieu of flowers, donations can be made to KRMC Hospice Home at 812 Airway Ave., Kingman, Arizona.
A time of gathering will be scheduled at a later date. If you would like information, please leave a message with your name and how you knew Jim or the family. Email Jdalldredge4@gmail.com.