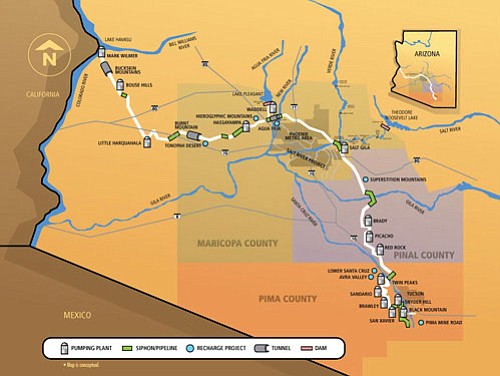 Originally Published: January 18, 2018 5:57 a.m.
KINGMAN – County officials met with the Central Arizona Project Wednesday over the details of the agency's latest plan to divert water from the Mohave Valley Irrigation and Drainage District to towns in Maricopa, Pima and Pinal counties.
CAP is currently in the due diligence phase of a $34 million sale with a pair of New York City hedge fund firms to purchase seven farms totaling approximately 2,200 acres of farmland with approximately 14,000 acre feet of diversion water rights from the Colorado River.
If the sale proceeds, it would send 5,500 acre feet of Colorado River water to central Arizona annually.
The county's argument against the sale is that the farms can be sold, but the hedge fund firms do not own the water, said Mohave County Supervisor Lois Wakimoto.
"I believe the water is ours and the people in this area don't want to give it up," Wakimoto said. "The farmers don't own the water. They are able to use it for growing their crops. What we are saying is the drainage district has a resolution in place not to send water out of Mohave County, and as long as this remains, water will not leave the county."
Payment in Lieu of Taxes was expected to be discussed at the meeting as well.
PILT eligibility is reserved for local governments – mostly rural counties – that contain non-taxable federal lands and provide vital services, such as public safety, housing, social services and transportation.
These jurisdictions provide significant support for national parks, wildlife refuges and recreation areas. The funding stream is paid to local governments to offset losses in property taxes because of the non-taxable federal lands within their boundaries.
Based on the assessed value of $415,551, the county's tax bill would total $55,395 that includes the tax amounts for special tax districts. The amount that goes strictly into county's coffers is $8,185.
"This is intended to be a meeting to discuss issues around tax revenues to Mohave County since CAP is tax-exempt from paying property taxes on land," said Dennis Rule, Central Arizona Groundwater Replenishment District manager. "We are there to listen to their issues and concerns."
While Wakimoto is pleased for the face-to-face meeting she still holds to her belief that all options, including legal injunctions, are on the table to prevent the sale.
"Nothing is a done deal," Wakimoto said. "But, we've done a good job in having them listen."