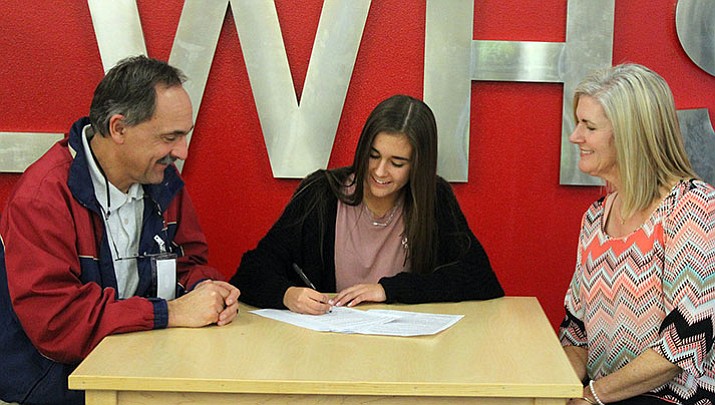 Photo by Beau Bearden.
Originally Published: January 19, 2018 6 a.m.
KINGMAN – It was an eye-opening experience for Meah Wilson.
The Lee Williams High School senior had just finished competing at the state cross country meet in Phoenix and was approached by a few community college coaches.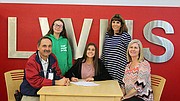 "I finally kind of realized, 'wow, I could actually do this," Wilson said of competing at the next level. "… I reached out to the colleges I was interested in and things really panned out in my favor, which was nice."
Wilson, who finished 16th at the AIA Division III State Championship, considered Arizona State, University of Arizona and some colleges in California. But ultimately, once she visited Embry-Riddle Aeronautical University, she knew it was the right fit.
"The coach there was the nicest person I ever met," Wilson said. "He knew what he was doing. He was so welcoming and friendly. That was the selling point for me."
But Wilson didn't just pick the Prescott college for its athletics, she also found a number of other state-of-the-art features.
"I just love their program," Wilson said. "They have this really cool 3D printer lab. I'm very science-oriented and they have all these different labs and wind tunnels. So I'm really excited to go there."
Wilson will have her work cut out for her though, as the Lady Eagles already have a full girls team. However, they are looking to expand the squad and Wilson said she can definitely battle for varsity placement in the next year or two.
The fact she earned a scholarship is an accomplishment in itself as she is the first in her family to do so. She has also set a new milestone at Lee Williams.
"I'm the first one from Lee Williams to go to college for cross country," Wilson said. "So I have to make my school and my family really proud. I just have to represent them well."
Lee Williams cross country coach Joan Abraham knows Wilson will do just that as she's watched her develop into a top-notch athlete. It hasn't been an easy journey as Wilson missed her junior year due to an injury, but she returned in time for track season and continued to condition for her senior campaign.
"It's definitely exciting," Abraham said. "… Meah is mine. She's my Meah. I'm just really proud of her and I'm hoping that this will help spark some desire in some of the other kids considering the amount of effort it took her. She's a great student, too, and that helped her a lot."
Wilson shared the same sentiments about her coach, saying Abraham is a driving force that always tells her to keep going and give it her all. That inspiration won't leave Wilson though, as Prescott is only a two-hour drive.
"I've already told the cross country team that we're going to have to go," Abraham said. "We may just make it a trip sometime when we know there's a meet in Prescott. It would be totally awesome to go and cheer her on. Plus, we run a meet in Prescott for the high school kids. So hopefully she'll be there with her teammates to give my kids some exposure to college athletes."