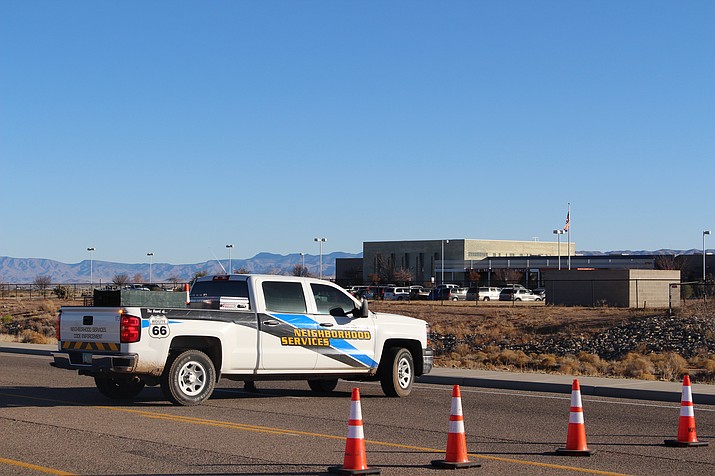 Photo by Hubble Ray Smith.
Originally Published: January 23, 2018 11:40 a.m.
KINGMAN – More than 450 students at Desert Willow Elementary School were sent to the gym at nearby White Cliffs Middle School Tuesday morning as a precautionary measure from a threatening phone call, police and school officials said.
Office personnel at Desert Willow received the call shortly before 8 a.m. Tuesday, with a male subject stating that a bomb was going to explode at the school, Kingman Deputy Police Chief Rusty Cooper said.
"Of course, school had not started yet, so they diverted students away from the school," he said.
School officials notified Kingman Police Department, and bomb-sniffing dogs from the K9 units were sent in to search the school, assisted by bomb-sniffing dogs from Burlington Northern Santa Fe Railroad, Copper said.
Police determined there was no bomb on the school premises, and students were allowed to return.
Desert Willow Principal Trevor Batt said students would resume a normal school day upon clearance from KPD. Teachers would be going back to their rooms first after the bomb dogs had left, he said.
He put in a call to the school district's central kitchen to bring breakfast for about 150 fourth- and fifth-graders.
"The kids are safe and warm and eating and watching a movie," said Tonia Cobanovich, principal at White Cliffs.
This is the second incident within a week at Desert Willow. The school went into a brief lockdown Jan. 17 when an estranged husband and father of one of the students called and said he was coming down to the school to look for his child.
Cooper said police have not ruled out any connection between last week's calls and Tuesday's bomb threat. Officers determined the man was not in Kingman when he made the calls last week.
More like this story